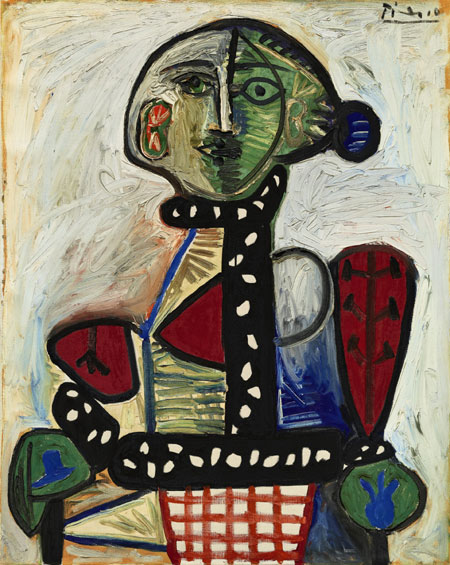 Femme Au Chignon Dans Un Fauteuil [Photo provided to chinadaily.com.cn]
The chairman of Huayi Brothers Media Wang Zhongjun purchased Pablo Picasso's Femme Au Chignon Dans Un Fauteuil for $29.93 million at the Impressionist & Modern Art Evening Sale in New York on Tuesday.
The media mogul is famous not only for producing movie blockbusters, but also for his impeccable taste in paintings.
"I first fell in love with the painting and then I fell in love with its story. The Goldwyn family is legendary in our industry and in this one work, I can see not only Pablo Picasso's genius, but also Samuel Goldwyn Sr.'s creative vision," Wang said.
The painting had remained in the Goldwyn family collection since it was acquired by Hollywood legend Samuel Goldwyn Sr. in 1956. While long-celebrated for their extraordinary legacy in Hollywood, Samuel Goldwyn Sr. and Jr. were both passionate collectors as well, and approached film in the same spirit with which they acquired important works of art for more than 50 years.
"It was a privilege to present longtime collectors and connoisseurs such as Wang Zhongjun to works from the Goldwyn family collection this spring. It feels particularly poetic that Picasso's portrait would unite these titans of Old and New Hollywood," said Simon Shaw, Co-Head of Sotheby's Worldwide Impressionist & Modern Art Department.
Patti Wong, chairman of Sotheby's Asia, commented on the increasing number of Asian collectors, "It's thrilling to see these clients' tastes and interests expanding, and to witness them making their presence felt across our salerooms worldwide."
Wang bought Van Gogh's 1890 painting Nature Morte, Vase aux Marguerites et Coquelicots in November for $61.8 million.
Sotheby's yearly performance report for 2014, announced in January, shows an 18 percent increase in turnover to a record high of $6 billion, of which buyers on the mainland and in Hong Kong, Macao and Taiwan contributed more than $1 billion.