Shifting tastes see wealthy Chinese collectors look West
Updated: 2015-02-12 07:18
By Gladdy Chu in Hong Kong(HK Edition)
| | | | | | | | | |
| --- | --- | --- | --- | --- | --- | --- | --- | --- |
|   | | Print | | Mail | | Large Medium  Small | 分享按钮 | 0 |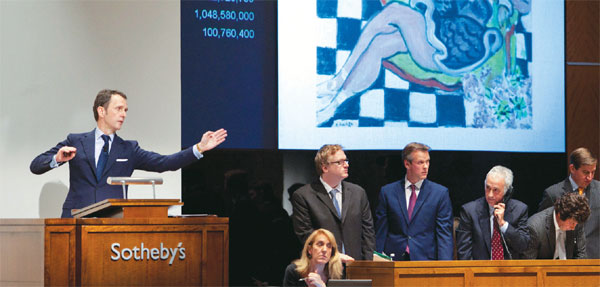 Auction houses try to draw new clients by expanding exhibition spaces and online bidding. Tom Starkweather / Bloomberg
The art world is witnessing the rise of a new wave of wealthy influential collectors from the Chinese mainland and Asia as a whole.
Sotheby's yearly performance report for 2014, announced in January, shows an 18 percent increase in turnover to a record high of $6 billion, of which buyers on the mainland and in Hong Kong, Macao and Taiwan contributed more than $1 billion.
Top international rival Christie's also announced a record result, with art sales of $8.4 billion, up 17 percent from 2013, though sales in Asia dropped 10 percent to $844.1 million for the London-headquartered auctioneer.
However, Christie's indicated that 2014 saw an increase in spending globally from Asian clients, which was up 18 percent, with growing activity in many sale categories. Asian clients accounted for 27 percent of all global sales.
Kevin Ching, CEO of Sotheby's Asia, also reports an increase in new mainland buyers for 2014. "Our new mainland buyers include institutions, listed companies and rich individuals," Ching said, adding that interest is diversifying from Chinese collections to Western picks.
At Sotheby's 2014 Hong Kong autumn auction, Asian private collectors contributed two-thirds of the most expensive wine lots.
"Ten years ago, mainland collectors would prefer Chinese Maotai, now they are getting more interested in foreign wines," Ching said. "Also, because of explicit investment grading of white diamond in the international market, mainland buyers collect more of both white and colored diamonds besides jade, since there are clear international ranking standards and market price for the invested jewelry."
He pointed out that Chinese collectors, including those from Hong Kong and Taiwan, tend to buy more collections of porcelain and jade articles because of a deep affection for their own history and culture.
"Accomplished businesspeople on the mainland have a passion for antiquities belonging to emperors, such as imperial jade seals," Ching said. "They feel like the emperor of their own business once they gain the personal articles of emperors, which symbolize power or success."
In recent years, however, their attention is shifting from traditional objects including Chinese antiques, Chinese paintings and calligraphy, to diverse Western investment items.
Moreover, mainland auction houses have the edge in selling Chinese artworks such as painting and calligraphy, Ching pointed out.
"About 80 to 90 percent of revenue of mainland auction houses comes from this category," he added.
However, if collectors want to buy artworks of highest grade such as jewelry, watch, wines and canvases, they would seek out international auction houses, Ching said.
"We've had an international net of contacts enabling us to collect these artworks," he added.
"They could bid over the phone, just the way Chinese movie mogul Wang Zhongjun bought Vincent Van Gogh's painting in November at a Sotheby's New York auction," he added.
The $61.8 million shelled out by Wang for Van Gogh's Still Life, Vase with Daisies and Poppies is believed to be the highest price paid overseas for Western art by a Chinese collector.
During Sotheby's mainland tours to attract collectors to participate in its spring and autumn auction events in Hong Kong, Ching found that mainland buyers tend to be from a younger age range, unlike those from Hong Kong.
"The rich in Hong Kong are mainly aged 50 to 60, but lots of deep-pocketed mainlanders are just over 30 years old, who have accumulated wealth from starting an undertaking or have inherited a fortune," he said.
Besides traditional auctions in the secondary market, the leading global auction house pair, both two centuries old, are intensifying efforts to draw new clients by expanding both exhibition spaces and the online auction business.
Christie's opened new exhibition spaces in New York, Hong Kong and Shanghai and its private sales in 2014 increased by 26 percent to $1.5 billion. "Of course it will bring certain impact to private galleries," Hong Kong gallery owner Lucie Chang Yue said.
Regarding the online auction business, Christie's launched its own real-time bidding system on the web as far back as 2013, while Sotheby's chose to cooperate with e-commerce giant eBay as of last July.
For 2014, Christie's online sales increased 60 percent to $35.1 million and online buyer numbers surged by 38 percent. For the same period, online buyers at Sotheby's increased 20 percent to account for a quarter of its total sales.
gladdy@chinadailyhk.com
(HK Edition 02/12/2015 page8)