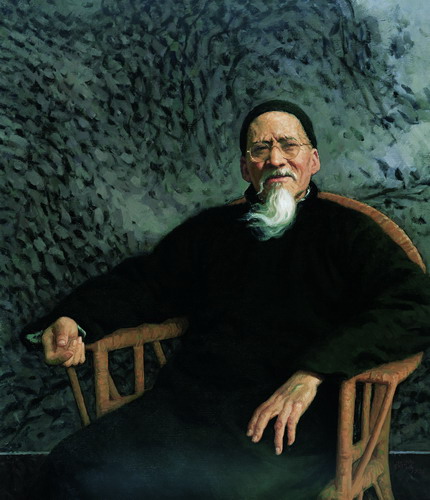 Huang Binhong in His Late Years by celebrated oil painter Jin Shangyi.[Photo provided to China Daily]
The exhibition shows Huang's impact on the artistic world from the perspectives of his successors. It displays a figurine by Wu Weishan, a sculptor and National Art Museum director, of Huang sketching. A giant installation by Shanghai-based artist Shen Fan uses neon tubes to illustrate the basic composition of Huang's works.
One of the better-known works is the oil painting Huang Binhong in His Late Years by Jin Shangyi, the celebrated oil painter. He created the work in 1996, which depicts Huang relaxing in a chair, against a shanshui painted background. The work is usually kept at the museum of Beijing's Central Academy of Fine Arts.
"I very much like Huang's paintings. He applied thick, rich layers of ink to bring out the vigor and moisture of nature," Jin says. He pays tribute to Huang's innovative spirit in the portrait.
"I painted the work as an experiment to localize oil painting, and to find a novel way to express the cultural power of Chinese art."
Huang's art did not start to become truly recognized until the 1980s. Even today, not many people dare to say they truly or fully understand his artistic versatility and spiritual world. Debates continue over whether Huang's flower-and-bird works equal his mountain-and-water pieces, and whether he is truly an able calligrapher.
"Huang lived in a time when Western painting was spreading to China while Chinese painting became hollow," says Xue Yongnian, a professor with the Central Academy of Fine Arts. "Many painters were constrained by the traditional teachings; they spent most of the time copying masters' works but hesitated to proceed."
Among those who managed to make breakthroughs, one group-many of them studied art in Europe and Japan-combined the Western and Eastern techniques together, such as Xu Beihong, Liu Haishu and Lin Fengmian. The other group was heralded by Huang and Qi Baishi, considered two greats of Chinese painting in the 20th century. Both took over from the past and set a new course for the future.