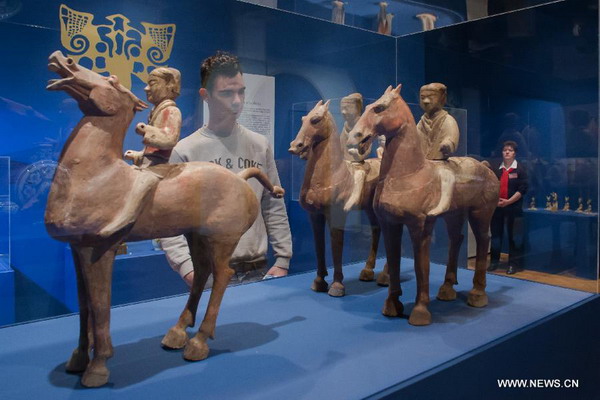 A young man visits an exhibition called "Treasures of Ancient China" at the Museum of Applied Arts in Budapest, Hungary, on Feb. 6, 2015.[Photo/Xinhua]
"Knowing this is important to Chinese-Hungarian friendship since culture can provide true content to business and other relations," Balog added.
Xiao Qian said that contacts between China and Hungary had been advancing for the past 65 years. Today, China is Hungary's biggest trading partner outside the European Union with bilateral trade exceeding 9 billion U.S. dollars last year and Chinese businesses investing over 3 billion euros (about 3.4 billion dollars) in Hungary.
"Culture is an important aspect of our bilateral relations," Xiao Qian said. He hoped that this exhibition would surely enhance the Hungarian people's understanding of China, and contribute to strengthening friendship and cooperation between the two countries.
Zhou Ming detailed the exhibition itself, saying that the artifacts on show ran from the Neolithic era to the Qing Dynasty (1644-1911), and offered an overview of Chinese history, religion, and day-to-day life through the past 5,000 years.
The material comes from the Shaanxi History Museum, the Nanjing Municipal Museum, and the Chengde Palace Museum.
The exhibition will remain open until April 19.