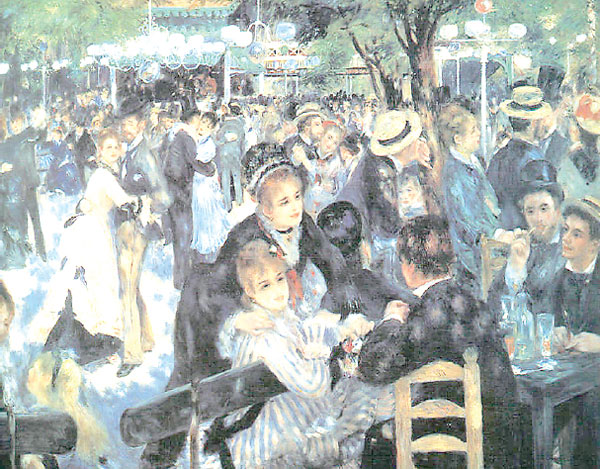 The print edition of Pierre-Auguste Renoir's Dance at le Moulin de la Galette.
Xu Qinping is dean of the Xu Beihong Art Center of Renmin University. Following the footsteps of his father, a Chinese painter known for his ink horses, the younger Xu also focuses on horse painting. On the other hand, he devotes himself to research in art history and is a professor who promotes his father's artistic spirit.
Because Xu Beihong donated most of his works to museums, there's little left for his son. But for Li Xiaoke, he owns enough of his father's works to run a foundation.
Li's father is Li Keran, a well-known ink painter of landscapes and of cows. Li and his mother set up an art foundation named after his father in 1998. The foundation has held more than 20 shows of Li Keran in different countries to promote his artworks. Meanwhile, it funds creative young artists and gives awards to outstanding ones.
The younger Li is also a painter of traditional Chinese painting; he concentrates on landscapes.
Li Kuchan was a master of Chinese painting of birds and flowers, and his son Li Yan is now a professor at the Academy of Arts & Design, Tsinghua University. Also an artist, the younger Li has an art studio.
"I always hold shows of my father's pieces. I want more art lovers to feel the beauty of my fathers' works," he says.
Yu Runde, art director of the group exhibition, says the descendants are devoted to promoting their fathers' artistic spirit, and it's the first time for these families to bring their collections together for show.
"They try hard to inherit the art legacy from their parents and pass them on to a wider audience, " says Yu. "Although their children's own paintings can't reach that high level, the spirit of those masters never fades."