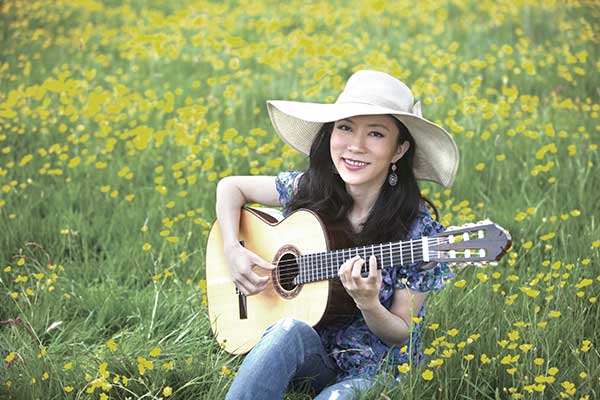 Yang Xuefei shares with Chinese audiences her passion for Brazilian music in her new album.[Photo provided to China Daily]
Yang Xuefei's first encounter with Brazilian music was at the age of 12, when she began to play classical guitar. She heard Sound of the Bells, by composer Joao Pernambuco, at a Beijing show. The performers had left the score, so Yang was able to play it with her classmates later.
"I was struck by the fun and lively piece," Yang, 39, tells China Daily.
Almost 30 years later, Yang played the piece again in her latest album, Colors of Brazil, which was released earlier this month.
For more than 500 years, Brazil has been a melting pot of cultures, with the dances and music of European and African people.
Yang's new album features 21 pieces by Brazilian guitarists, such as Antonio Carlos Jobim, Heitor Villa-Lobos and Joao Pernambuco.
It also includes Yang's adaptations of works by some of the musicians who shaped Brazilian music during the 20th century and some taking it into the 21st century.
"The album has been my longtime wish. It reflects my own personal favorites from the wide and deep pool of Brazilian music," says Yang. "This year's Summer Olympics will be held in Brazil in August. It's good timing to release the album."
Morning of the Carnival is among the first Brazilian pieces Yang heard and remains her favorite. It's probably the most notably bossa-nova piece written by Luzi Bonfa, a Brazilian guitarist and composer who achieved fame for his composition for the film Black Orpheus.
Yang selected two arrangements of the piece and connected them together, a soulful arrangement by Brazilian guitarist Baden Powell and a jazzy arrangement based on a version by Brian Hodel.
Um a Zero, composed by Pixinguinha, celebrates a famous football game in Brazil and is a tribute to Arthur Friedenreich who scored the winning goal. The defeat of Uruguay gave Brazil its first international football title in South America in 1919.
Yang's album also features music from two of the current generation of guitarists.
Bate-Coxa, a sensual dance piece written by Marco Pereira from Sao Paulo, is strongly rooted in the musical tradition of Brazil with influences from jazz and other Latin-American music.
Farewell, written by Sergio Assad, is dedicated to the memory of the composer's late first wife.