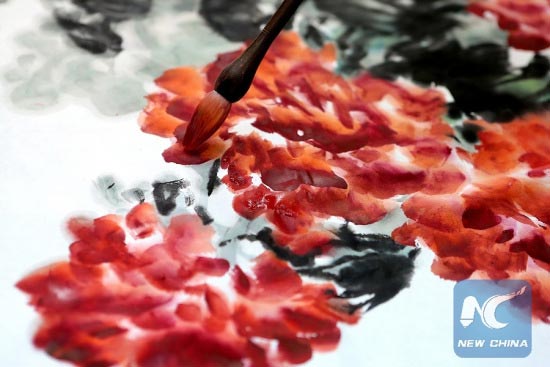 Ink wash painter Tian Shelang works on a painting in his studio in Hangzhou, capital of East China's Zhejiang orovince, Dec 9, 2012. [Photo/Xinhua]
A Chinese professor and translator has called for the training of more professional translators in an effort to strengthen cultural exchanges between China and the West.
Dong Qiang, director of the French Department at China's prestigious Peking University, said in a recent interview that it was necessary to create more cultural exchange channels, such as translation and literature research institutes, which can promote exchanges between the two cultures.
Dong received Thursday in Brussels the title of honorary doctor of the Faculty of Letters, Translation and Communication of the Free University of Brussels (ULB).
"Conferring the doctor honoris causa to Dong Qiang is an opportunity to put the translation in honour, in the Year of Languages at the university," said the university in a statement.
According to Dong Qiang, literary translation is special and important, which requires translators to be very familiar with the culture and undergo long time training. He believed that China has attached more importance to the training of translators in recent years.
"I am also pleased to see that many European countries, including Belgium, attach great importance to the teaching of the Chinese language and the study of Sinology", he said.
Dong is known for his translations of many great French authors, including Rimbaud, Le Clezio, Breton, and Michaux. He was awarded the Great Medal of the Francophonie by the French Academy in 2013 and was awarded the Legion of Honour, which is the highest French honor for military and civil merits, in January 2015.
Related:
Asia-Africa cultural exchanges
Chinese and American students attend musical exchange program