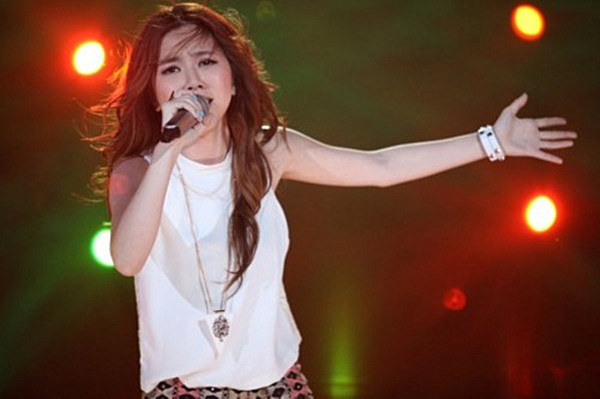 Post-90s singer G.E.M.enjoys an increasing popularity and a skyrocketing performance fee after she attended the reality TV show I am a Singer [Photo/ chinadaily.com.cn]
Chinese music industry is having a hard time with difficult transition process under the Internet era, yet singers' commercial performance fees have continued to skyrocket recent years. In fact, a quoted price of millions of yuan is not uncommon among celebrities.
Xing Feng Media group (xgccm.com), a company arranging celebrity endorsement and commercial performance, released celebrated singers' performance fees for commercial events and the results don't lie. It has experienced an unprecedented growth in recent years, with the price doubling or even tripling, putting an immense amount of pressure on professionals in the entertainment industry.
For example, famous Hong Kong singer and actor Jacky Cheung and Andy Lau are both priced at 2 million yuan ($305,600) for a commercial show while musician stars Jay Chou and Eason Chan go for 1.8 million yuan ($275,040). Well-known Singer Na Ying and Leehom Wang are tagged at 1.5 million ($229,200) and 1.2 million ($183,360) respectively.
"The number is still climbing, and almost no one ever reduces their price, " said Liao Siyong, chairman of Xing Feng Media group.
Three factors boost the price
What makes those singers' performance fee grow so fast? The answer: entertainment programs, films, and gossip news.
According to Liao Siyong, popular reality shows and entertainment TV programs such as I am a Singer, Masked King, Voice of China, are a big pusher to stars' performance price. High profiled singers who make appearances on the show immediately raise their stock allowing them to earn more money.
Post-90s singer G.E.M. is a perfect example. The young girl was still a fresh face three years ago when she would never get asked to do commercial events. However, after her impressive performance in Hunan TV's 2014 reality show, I am a Singer, she suddenly became a rising star among young people, with her name known across Asia. Her fame came with a skyrocketing performance fee, which was set at 1.3 million yuan($198,640).
Chinese singer Wang Feng, celebrated actress Zhang Ziyi's husband, is another free rider of the trend. Since 2013, when he joined Zhejiang TV's Voice of China as a jury member and music tutor, his popularity and performance fee have witnessed a constant increase, growing from 700,000 yuan ($106,960) to 1.8 million yuan ($275,040).