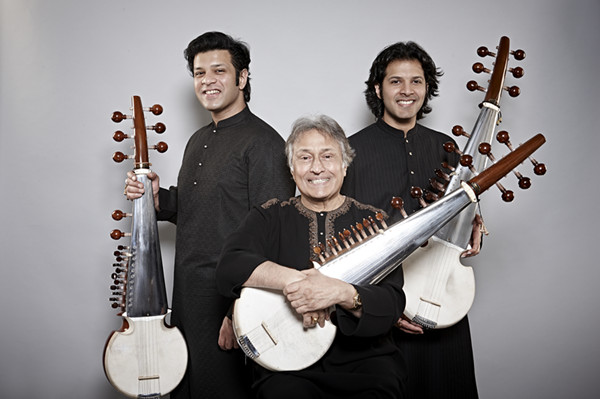 Indian sarod players Amaan Ali (left) and Ayaan Ali (right) with their father, Amjad Ali Khan.[Photo provided to China Daily]
When musicians Amaan Ali Khan and Ayaan Ali Khan perform in Shanghai at the weekend and in Beijing later in the month, audiences will get a taste of Indian classical music through a rare instrument called the sarod.
Sons of the award-winning sarod maestro Amjad Ali Khan, Amaan, 38, and Ayaan, 36, are seventh-generation players of the instrument, the name of which is said to have been derived from a Persian word associated with music.
In an interview with China Daily ahead of the brothers' China debut on Saturday, they talk about the lute-like stringed instrument that has a steel fingerboard and a belly usually covered with goatskin.
The sarod has 19 metal strings of which 11 are sympathetic. The body is made of teakwood and the strings are pressed with the edges of nails while playing, not the fingertips.
Some say the sarod's origin goes back to an instrument called the rabhab of Afghanistan. With its evolution around the middle of the 19th century, the sarod became more expressive and is an important part of Hindustani music, a prominent school of Indian classical music.
The brothers, who live in New Delhi, say Indian classical music has had a spiritual and scientific development through long years. The most important element of Indian classical music is the raga, which comprises a set of ascending and descending notes within a certain discipline.
An interesting aspect of Indian classical music is the coming together of different performers onstage like a "rehearsed orchestra" although in reality one musician may not know what the other is going to do ahead of a concert.
"Since we are siblings, we read one another's minds onstage. So, there are no rehearsals for our shows," the older brother Amaan Ali Khan says.
The brothers take pride in the fact that their 70-year-old father inspires and encourages them to take the sound of the instrument to new levels.