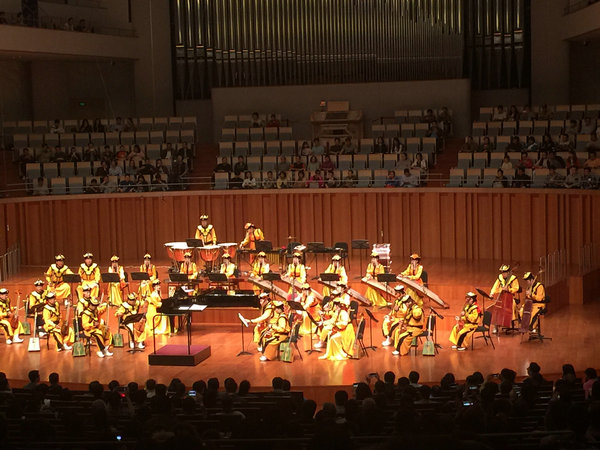 The Morin Khuur Ensemble performs at the concert on May 9 [Photo provided to chinadaily.com.cn]
A traditional Mongolian music concert highlighting the unique "horsehead fiddles" and Khuumei art thrilled an audience in Beijing on Monday.
As part of the World Music Series - Best of Asia project, a cultural exchange program that aims to promote intangible cultural heritage, the show was organized by Embassy of Mongolia, the Ministry of Culture and China's National Center for Performing Arts.
More than 10 performances were given in Beijing's National Center for the Performing Arts by the Morin Khuur Ensemble, one the most internationally-celebrated musical groups of Mongolian culture. The concert featured folk songs and symphonies. Traditional musical instruments were played, including the "Morin khuur", or "horsehead fiddles", that became the center of attention.
"The horsehead fiddle is the most popular instrument among the 400 musical instruments the Mongolian people have created," Mongolia's ambassador, Tsedenjav Sukhbaatar, said at the concert's opening. "It is a spiritual item kept at the most honored place of the Mongolian ger, 'or yurt.' ".
A horsehead fiddle 140 different methods to play and.the strings can produce 100 different tunes and capture the sounds of various human activities, nature and animals. The instrument is listed as a UNESCO Intangible Heritage of Humanity.
The concert was not only a feast for the ears, but also for the mind and soul. The beautiful yet fresh melodies carried the audience's imagination to a clear world with a blue sky, cool breeze, gurgling rivers, wide stretches of grassland and herds of cattle and sheep.
Another highlight was Khuumei, a particular Mongolian throat singing technique by which one can produce two voices, both high and low pitched, at the same time. This drew bursts of applause among the listeners. The concert ended with a classic Chinese song, Jasmine Flower, bringing the whole event to a climax.
The Morin Khuur Ensemble was established in 1992. As one of the most well-known Mongolian musical groups and has performed in the world's most famous theaters in Moscow, Vienna, Milan, Paris, Tokyo and New York. This is the third time it has performed in Beijing's National Center for the Performing Arts.