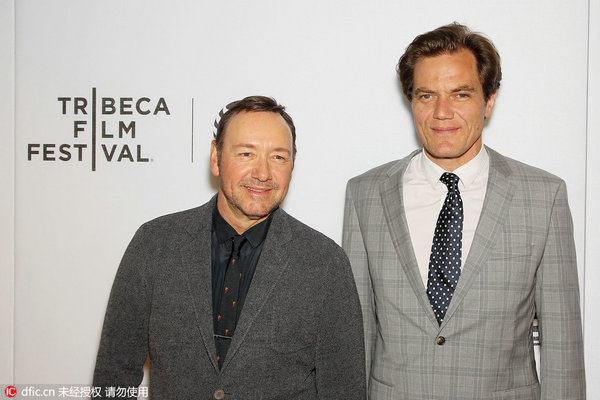 The US comedy Elvis & Nixon stars Kevin Spacey (left) and Michael Shannon in the lead roles. [Photo/IC]
The most requested photo in the US National Archives is not the first moon landing or the burning twin towers after the attacks of Sept 11, 2001.
It is actually a picture of President Richard Nixon shaking hands with Elvis Presley in the Oval Office in December 1970 after the meeting between two pivotal figures in 20th-century America.
Elvis & Nixon, a comedy movie that re-imagines their unlikely White House encounter, opens in US theaters on Friday after premiering at New York's Tribeca film festival. It is distributed by Amazon Studios.
Kevin Spacey (Nixon) knows a thing or two about playing a president after years as the scheming Frank Underwood on the TV series House of Cards. But Michael Shannon, who plays Presley, was just 3 years old when the singer died in 1977.
"We weren't, either of us, trying to do caricatures," Spacey, who spent hours listening to tapes of Nixon and watching video of the president, says.
There are no records of what exactly happened on the day when Presley requested a meeting with Nixon in a bid to become an undercover federal agent-at-large, and found a bond with the president over a shared dislike of the counterculture.