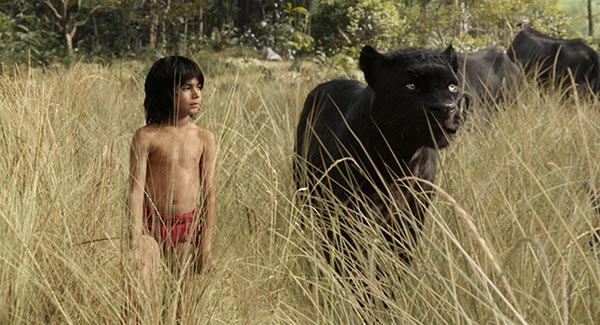 A scene fromThe Jungle Book. [Photo/Mtime]
If you are a fan of wildlife — or all things cute, Walt Disney's new animal-themed
The Jungle Book
seems like a not-to-miss option.
The 105-minute live-action CGI remake of the namesake 1967 animated film by Disney opened in China and North America simultaneously on April 15. The films are based on a collection of stories by English author Rudyard Kipling that were first published in magazines in 1893–94.
The latest statistics show that Iron Man director Jon Favreau's newest work had grossed 12 million yuan ($1.9 million) in China through Monday.
The tale of a "man-cub" raised by a wolf pack follows the 10-year-old protagonist's adventure in the jungle.
In a trailer tailored for the Chinese market, Favreau reveals the reason to remake the classic is that present-day technology can recreate the real animals featured in the animated flick.
He also reveals the trick for the voice performers was "to let them (the actors) really act like they were in the movie".
The only human actor is 13-year-old newbie Neel Sethi (the man-cub). The animal characters were all created by computer technology and voiced by a stellar cast, including Bill Murray and Scarlett Johansson.
In addition to enjoying the visual spectacles, Chinese movie fans can gain more scientific knowledge about the animals in the movie thanks to a talk show held by the Beijing Museum of Natural History.
Zhang Jinshuo, an animal expert with Chinese Academy of Science, acted as the show's host to elaborate on the animals' habitats and characteristics, in conjunction with a Saturday screening at a Beijing Imax cinema. The show will be broadcast online soon.
Related:
Disney's The Jungle Book debuts with over $100m