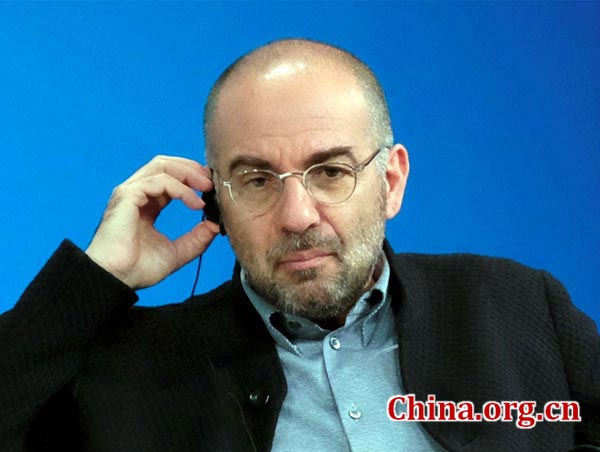 Italian director Giuseppe Tornatore attends a forum during the 6th Beijing International Film Festival on April 16, 2016. [Photo/China.org.cn]

This is the first time that Italian director Giuseppe Tornatore will work with a Chinese partner, and he said he believed that China's rapid growth in film market will have a significant impact in the future on the global film industry.
The director earned his master status with many great classics, such as Cinema Paradiso, Malèna and The Legend of 1900. He directed a promotional film in 2006 for Beijing Olympics 2008, which was his first encounter with China.
Alibaba Pictures, Alibaba Group's film entertainment affiliate, has been expanding onto the global stage by investing in Mission: Impossible -- Rogue Nation and the South Korean film Real. Alibaba Pictures and Skydance will also join forces to develop and make a Flying Tigers feature film for global release, which would be the first Alibaba's original film project.
The signing with Tornatore is Alibaba Pictures' first foray into Europe. Zhang Qiang, CEO of Alibaba Pictures, said they would continue integrating talents, technologies and resources to develop and make global blockbusters. "We are so happy to work with director Tornatore and we are looking forward to working with more excellent directors from all over the world."
Related: