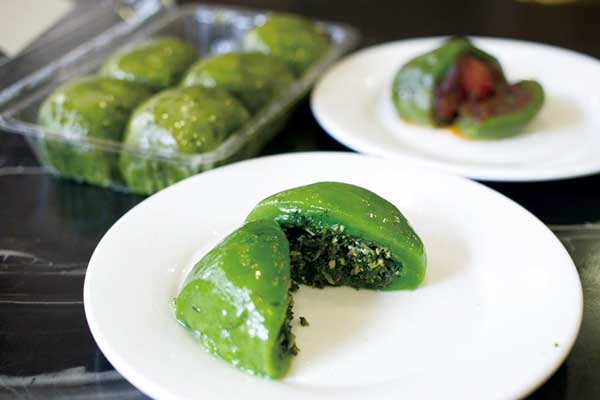 Green rice balls are available all year round, but demand spikes a few weeks ahead of the annual Qingming Festival.[Photo By Gao Erqiang/China Daily]
Every year during spring, Shanghainese people brave long queues to get their hands on a special green snack that is steeped in history and tradition
It is 10 pm, and the shops along Nanjing Road West are about to close for the day, with the exception of the kitchen in Wang JiaSha, located in a five-story glass and steel building in the middle of Shanghai's famous shopping street.
Here, a handful of white-robed pastry chefs have just started their overnight shift. But Wang JiaSha is not a supper joint, and it will not be serving any customers through the night.
Rather, the chefs will work tirelessly for eight hours, making qingtuan, or green rice balls, till daybreak. This special shift takes place every day for two weeks until Qingming Festival on April 4.
The chefs do not talk to one another. Everyone is incredibly focused on what is in their nimble hands - a palm-sized piece of olive green dough that they use to wrap around a dollop of red bean paste.