The leading ladies of old Shanghai
A look at some of the most famous Chinese celebrities of the past
In a time when there were no such things as cosmetic procedures, eyelash extensions and complex skin serums, China's female celebrities of the past were best known for their poise, impeccable fashion sense and au naturel looks, classic traits that till today are still revered by Chinese people.
The fascination with their timeless beauty had resurfaced during Chinese New Year this year when a WeChat user posted a picture of an old album containing photos of a gorgeous lady from the yesteryears. The image promptly went viral on Chinese social media and countless users soon contributed to the trending topic by sharing images of their grandmothers.
Here are some of the most prominent female figures in old Shanghai who were best known for their natural beauty and flair in the arts and entertainment scene.
Ruan Lingyu (1910-1935)
One of the most famous Chinese stars of silent movies in the 1930s, Ruan is often compared to the legendary American actress Marilyn Monroe, not simply because of her seductive curves and coquettish manners, but because she too took her own life, and at a very young age of just 24.
Ruan was not considered to be the typical "pretty face" actress unlike many of her industry peers but she was a highly versatile one who had taken on myriad roles throughout her very short but illustrious career.
She started her career playing the roles of destitute women and prostitutes before moving on to depict strong-willed and rebellious characters who all had one thing in common - the ability to show compassion in the face of persecution and misfortune. Because of this, film critics often said that she had a disposition for "suppressed sadness". In her nine years of acting, she had starred in 29 films, and this feat cemented her place among the silver screen legends in the early 20th century.
Born to a father who died during her childhood and a mother who worked as a maid, Ruan's foray into the entertainment business started early at the age of 16. One of the main reasons for this was that she needed a job to support herself and her mother.
Zhang Damin, the youngest son in a wealthy family - the one which Ruan's mother worked at - fell in love with Ruan during this time and it was his brother who kickstarted her acting career after introducing her to a film studio.
Zhang, a hardcore gambler, was later disowned by his family and relied on the budding actress to pay off his debts. Ruan eventually left him for a successful businessman named Tang Jishan, who bought a three-storey house so that they could live together. Their old residence is still standing at No 9, Lane 1124 Xinzha Road in Jing'an district.
Driven by jealousy and bitterness, Zhang harassed Ruan and threatened to blackmail his former lover, saying that he would claim she was his concubine. Zhang even filed a lawsuit to demand reparation from her. The media caught wind of Zhang's antics and Ruan soon became the first celebrity in modern China to suffer from bad press.
On the eve of International Women's Day on 1935, Ruan succumbed to the pressure and scrutiny of the public and the media, and decided to take her own life by consuming barbiturates. She left behind a suicide note that said, "Gossip is a fearful thing."
The people of Shanghai were overwhelmed by grief over her sudden demise and hundreds of thousands of mourners lined the roads during the funeral procession. Lu Xun, one of modern China's greatest authors, wrote an essay that blamed the media for being responsible for Ruan's death.
In 1992, Stanley Kwan, a Hong Kong director, made a movie titled Center Stage about Ruan. Famous Hong Kong actress Maggie Cheung played the role of the Chinese thespian and Cheung's performance won her the Best Actress Award at the Berlin Film Festival.
Hu Die (1907-1989)
Sometimes called "Butterfly Hu" (the English translation of her Chinese name), this actress started her career around the same time as Ruan and was known for being a diligent worker who would travel all the way to Beijing from Shanghai to improve her Mandarin and learn Peking opera from the legendary Mei Lanfang.
Hu had starred in some of China's most famous shows, including the 1928 silent flick The Burning of the Red Lotus Temple which is known as the movie that first started the martial arts craze in the film industry. Hu had starred in 18 of its 19 episodes. She also had a role in Sing-Song Girl Red Peony, China's first movie with sound that was released in 1933. In the same year, Hu became known as China's "first movie queen", courtesy of a public poll conducted by Star Daily.
Toward the end of her career, Hu was known for her elderly women roles in Hong Kong. Her astute performances won her the Best Actress Award at the seventh Asian Film Festival in Tokyo in 1960. She retired in Hong Kong in 1966.
On the personal front, Hu married Pan Yousheng, a young businessman from Shanghai, in 1935. Their wedding was dubbed as the most important social event of the year and was attended by a galaxy of film stars and celebrities. It was with the support of her husband that Hu managed to continue with her film career in the mainland and in Hong Kong during the Japanese occupation.
Hu was later approached by the Japanese to star in several productions and this resulted in her moving to the war-time capital of Chongqing. During her time there, Hu was captured and forced to become the mistress to powerful spy master Dai Li. However, Dai died in a plane crash in 1946 and Hu was finally reunited with her husband, who died in 1958. Following his death, Hu moved to Vancouver, Canada in 1975 to join her son. In 1989, Hu died in Vancouver after suffering from a stroke.
The actress had resided in several locations across Shanghai and the one which she spent the most amount of time in is the house on 52, Lane 1906 Sichuan Road North. This was also the home she lived in when she first rose to stardom.
Zhou Xuan (1918-1957)
One of the biggest Chinese stars in the 1930s who was famous for her acting and singing, Zhou had starred in more than 40 movies and recorded over 200 songs before she died in a mental hospital in Shanghai at the age of 39.
Many of the familiar melodies from 1930-40s Shanghai were originally performed by her, who is today still widely remembered as the "Golden Voice". Contemporary musicians have frequently mixed her old tunes with electronic dance music, a testament to the timeless allure of her songs.
Zhou had enjoyed singing since she was a child. In 1931, she joined the Bright Moon Singing and Dance Group led by Li Jinhui. In a time when recording and broadcasting technology were still new and foreign to the world, she quickly mastered the use of the microphone, learning how to optimize her voice to develop a distinctive style that captivated listeners.
As an actress, she often played the role of sweet and innocent young women before moving to portray Chinese beauties from ancient classics. The show that is known to have propelled her to national stardom is the 1937 movie Street Angel. Besides playing the role of the heroine, Zhou had also sang two of the theme songs, Four Seasons Song and The Wandering Songstress.
Following the success of Street Angel, Zhou entered the most productive period of her career in Shanghai and was in 1941 dubbed "the Queen of Films". However, she was quick to decline the honor, saying that too much fame was not good for her.
Zhou's life story is one that is as dramatic as those seen in her movies. She was raised by adoptive parents and had throughout her life searched for her biological father and mother. However, it was only after her death that their identities were discovered.
When she was three years old, her relative, an opium addict, sold her to a Wang family for money to fuel his addiction. When the Wang couple divorced, she was taken in by a Zhou family.
In contrast to her glamorous career, her personal life was marred with failed marriages, children born out of wedlock and suicide attempts, the combination of which is believed to have contributed to her mental-breakdown in 1951 while she was shooting the film Dove of Peace in Shanghai. She spent the rest of her life in a mental asylum, before dying of encephalitis in 1957.
Her former residence is the flat on the sixth floor of the Brookside Apartment, at 699-731 Huashan Road in Jing'an district.
Eileen Chang (1920-1995)
She might have been an author instead of a film or music star but Chang was nevertheless a woman who enjoyed celebrity status in Shanghai as she frequently used the city as the setting in most of her acclaimed novels and essays. She remains highly popular and idolized today, primarily because of her personality and distinctive writing style.
Recognized as one of the most important Chinese writers in the 20th century, Chang is famous for her stories that dwell on the tensions between couples in love. Even though major changes took place in China's society and ideology in the early 20th century, Chang managed to focus her narrative on the mundane and everyday elements in life, and this subsequently earned her criticism for being oblivious to the political climate at that time.
Born to an aristocratic family in Shanghai, Chang's father was an opium addict while her mother was largely absent during the growing up years. But despite the lack of parental guidance, Chang turned out to be a child prodigy who excelled in Chinese and English.
In 1939, Chang had gained admission into the University of London on a full scholarship but was unable to attend because of the ongoing war. She ended up studying English literature in Hong Kong instead and in 1941 returned to Shanghai where her literary career took off.
Some of her most acclaimed works, such as Love in a Fallen City, The Golden Cangue and Lust, Caution were all created in the 1940s in Shanghai. Critics often said that her works reflected a literary maturity far beyond her age. While making sharp observations about humanity and the inevitable darkness of destiny, Chang had a distinctive writing style that often relied on vivid analogies, colorful descriptions and a narrative devoid of moral judgments.
In 1944, Chang was married to Hu Lancheng, a man who was 14 years her senior. She remained loyal to the man even though he was accused of collaborating with the Japanese invaders. But Chang ended the marriage when Hu's constant involvement with other women came to light. She migrated to Hong Kong and then to the United States in the 1950s. She continued with her writing in the US but never achieved much recognition there.
Chang was remarried in 1956, this time to American screenwriter Ferdinand Reyher. When Reyher died in 1967, Chang lived in seclusion till she was found dead by her landlord in her Los Angeles apartment in 1995.
Her most famous residence in Shanghai can be found at 195 Changde Road, Jing'an district.
zhangkun@chinadaily.com.cn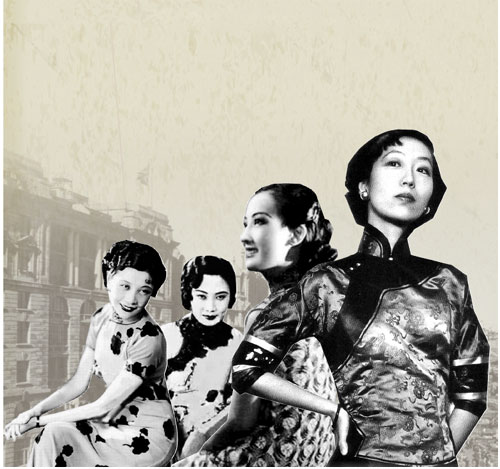 From left: Ruan Lingyu, Hu Die, Zhou Xuan and Eileen Chang. Photos Provided to China Daily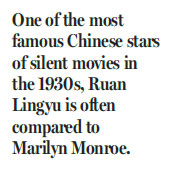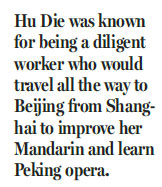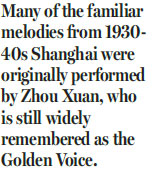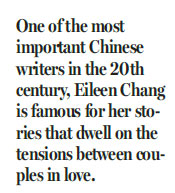 (China Daily 04/09/2016 page19)