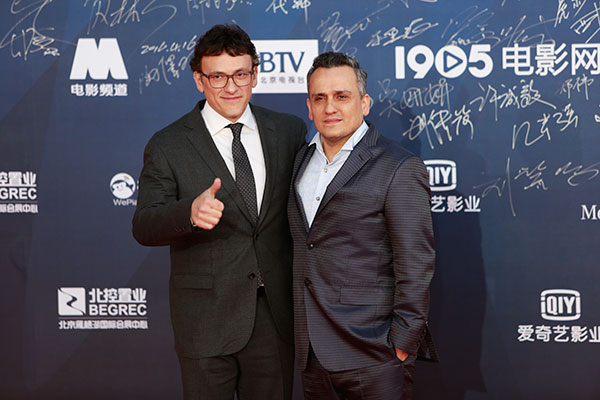 Anthony Russo and Joseph Russo pose at the Beijing International Film Festival red carpet. [Photo/VCG]
The Russo brothers, American film and television directors, together with Anthem Pictures film producing company, signed an agreement of a strategic partnership with Beijing Culture media company in Beijing on Monday.
"As story tellers, we seek out great opportunities to tell stories, and to be artistically invigorated by other filmmakers," said Joseph V. Russo.
"There are a lot of good Chinese filmmakers, emerging filmmakers who are inspiring us. We're very excited to work with emerging as well as well established and well-respected directors," the television director said.
As introduced by Song Ge, president of Beijing Culture media company, the partnership aims to converge global film creation and production resources, providing strong support for Chinese film production.
Chinese director Wu Jing, who is currently working on the movie Wolf Warriors 2, was present at the signing ceremony together with actress Li Xiaoran and actor Shi Xiaolong.
According to Zhang Miao, a general manager at Beijing Culture, Wu will collaborate with Beijing Culture for Wolf Warriors 2. "Imagine what we will get from a co-production of kung fu star and Hollywood superhero movie producers," Zhang said at the ceremony.
The Russo brothers, Anthony Russo and Joseph V. Russo, are American film and television directors. They are known for their superhero film Captain America: The Winter Soldier and Captain America: Civil War. They will be directing the two Avengers: Infinite War films.