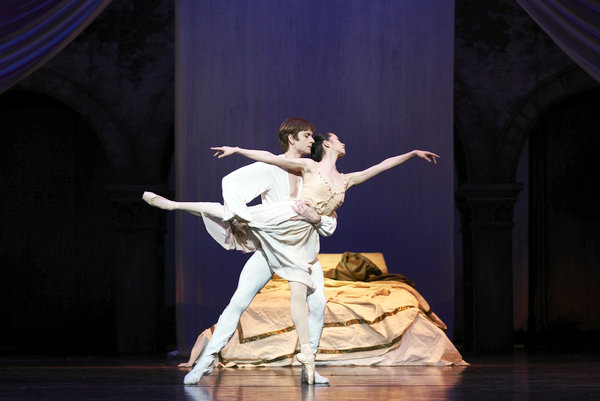 Stuttgart Ballet's principal dancer Friedemann Vogel will perform Romeo with NBC's ballerina Wang Qimin as Juliet in Beijing. [Photo by Wang Chongwei/China Daily] 
National Ballet of China will stage John Cranko's Romeo and Juliet from Wednesday to Sunday at Tianqiao Theater to mark the 400th anniversary of William Shakespeare's death. It is the second time that NBC is performing this version of the play. NBC bought the copyright of the work from Stuttgart Ballet in 2006 and premiered it in China that year.
The work, which debuted in December 1962 by Stuttgart Ballet, is arguably the best dance treatment of Russian composer Sergei Prokofiev's celebrated ballet score.
When NBC's former president Zhao Ruheng visited Stuttgart Ballet in early 2006 to discuss staging the work in Beijing, Reid Anderson, its artistic director, was hesitant. His main reason: NBC wasn't known globally at the time. Also, Anderson wasn't sure whether a Chinese company would stage it properly-no Asian companies had performed the production until then.
NBC proved its ability to Anderson and staged the show that year.
Anderson also sent Stuttgart Ballet's principal dancer Friedemann Vogel to perform as Romeo with NBC's principal ballerina Zhu Yan as Juliet for the premiere.