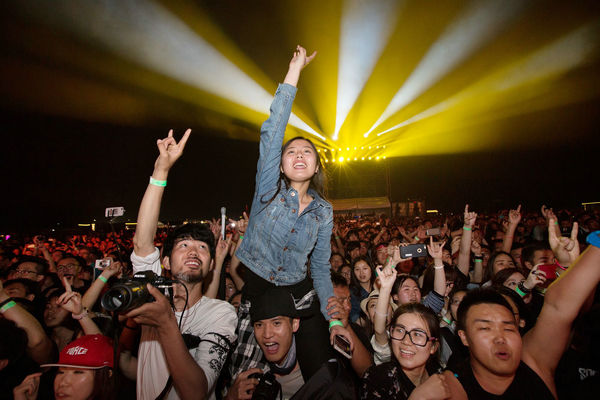 US band Backstreet Boys will play at the Changjiang International Music Festival later this month in Zhenjiang, Jiangsu province. The annual outdoor festival attracted more than 100,000 fans last year. [Photo provided to China Daily]
He also says that the band started recording their ninth album last year, and will get back into the studio in a few months.
"Their performance (in China) will be similar to their concerts. Fans will be able to enjoy great shows at a low price-200 yuan ($33) a day," says Tang Xiaolei, a veteran performance manager based in Los Angeles, who is also the main producer of Changjiang International Music Festival.
Besides Backstreet Boys, more than 30 singers and bands from China and abroad will perform at the festival, including established Chinese rock musicians Cui Jian and Xu Wei, Singapore pop singer Stefanie Sun and Hong Kong pop singer Sandy Lam.
The festival has been organized since 2009 by the Zhenjiang Media and Culture Industrial Group in Zhenjiang, a small city on the banks of the Yangtze River in East China's Jiangsu province.
With a history of more than 3,000 years, Zhenjiang is known as an important transportation hub, due to economic activity along the Yangtze River.
The flood of music fans from such neighboring cities as Nanjing, Changzhou and Shanghai brings lots of opportunities to the city.
To cater to the growing music market, the Zhenjiang Media and Culture Industrial Group in 2010 invested tens of millions of yuan to build the Shiyezhou Changjiang International Music Island, which is the site of the music festival.
Shiyezhou, which covers 44 square kilometers, is located on the Yangtze River.
According to Tang, the two-day event was a big success last year, attracting more than 100,000 fans. The number is expected to increase this year.
So, what is it that made last year's festival so successful?
"Besides the global stars' performances, there was a mix of popular singers and bands catering to all age groups, and we also targeted families," says Tang.
"Those elements made our music festival different."