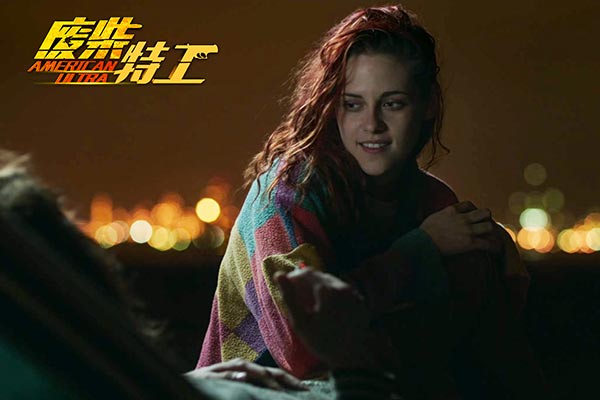 Kristen Stewart in American Ultra. [Photo provided to China Daily]
Only a month after Chinese moviegoers watched Jesse Eisenberg as the villainous Lex Luthor in
Batman v Superman: Dawn of Justice
, the American actor is set to return to the big screen here.
American Ultra, an action comedy starring Eisenberg and Kristen Stewart, hit Chinese mainland theaters on Friday.
In the movie, Eisenberg plays Mike Howell, a small-town drug user, who in reality is the lone survivor of a CIA mind-control program.
The fast-pace narrative, plot twists and thrilling music earned the movie praise at a Beijing preview on Monday.
"It's funny and a bit dark. And, it was really a great surprise to hear Eisenberg speaking Chinese in the last few minutes (in a scene)," wrote Alexander G, a commentator, on popular online Chinese movie forum Douban.
Since 2012, when China became the world's second-largest movie market after the United States, Hollywood has added Chinese elements to many of its big features. Recent instances include The Martian, in which an American astronaut stranded in space is helped by a Chinese space agency.
Related:
Johnnie To's Three to be screened on June 24