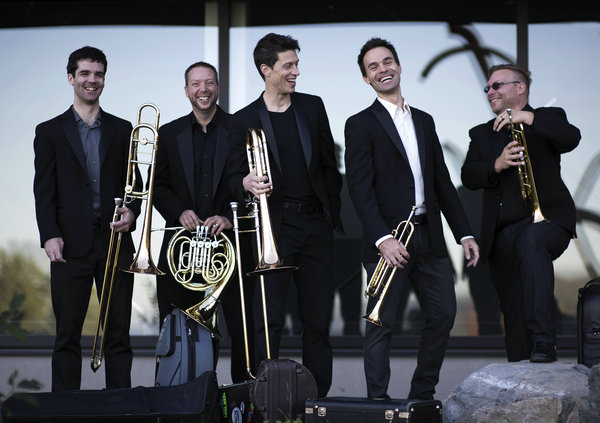 Buzz Brass Quintet is among cultural groups from Canada, the guest country of honor, at this year's Meet in Beijing Arts Festival. [Photo provided to China Daily] 
Among the capital's largest cultural gigs, Meet in Beijing Arts Festival, has unveiled its 2016 program, comprising more than 100 theater performances and outdoor shows as well as two major exhibitions showing across Beijing from April 25 to May 30.
Now in its 16th year, the festival will bring together nearly 400 Chinese artists and more than 400 international artists from 25 countries, including the United Kingdom, Spain and France.
Canada will be the guest country of honor at this year's festival, organizing officials told media last week.
Picking a main guest country each year has been the festival's tradition since it started.
This year, the opening show, titled Spring in China and Canada, will be held on April 25 at the National Center for the Performing Arts. It will feature five Canadian arts and cultural groups, including the Ottawa Bach Choir, the Ensemble Caprice Baroque Orchestra and a troupe from Vancouver's renowned dance school, the Goh Ballet Academy.
Chinese conductor Zhang Guoyong will lead the Qingdao Symphony Orchestra and work with the Montreal-based Buzz Brass Quintet. Canadian soprano Katherine Whyte will also join in the show, performing an excerpt from the classic Chinese opera, The White Haired Girl.
Mark Rowswell, a well-known Canadian scholar and TV host, who is better known as Dashan among Chinese audiences, was named the image ambassador for the guest of honor event.
Rowswell, 50, who is widely known for his mastery in spoken Chinese and performing the traditional Chinese folk art, xiangsheng, or crosstalk, will do a standup comedy show at Tianqiao Performing Arts Center on April 24.