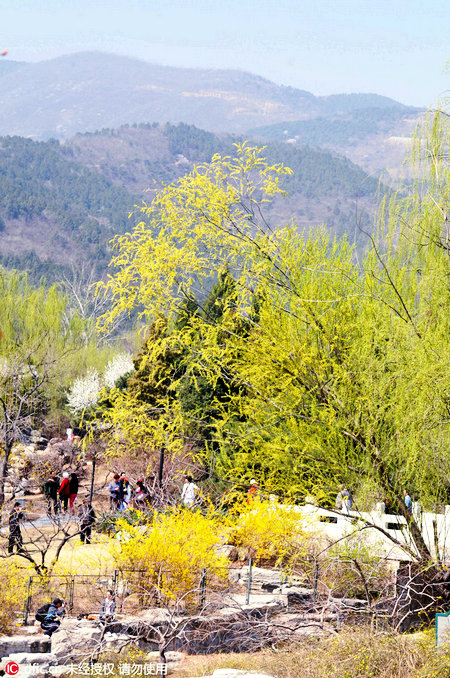 Willows in spring in Beijing. [Photo/IC]
Willow, pronounced liu, is the same as the word "stay" in Chinese. Hence it was always used as a metaphor for "don't leave" in Chinese literature. Ancient Chinese often sent a branch from a willow tree to their friends or families, meaning "please stay and don't leave me".
This tradition died, yet the custom of making food and tea with willow leaves is retained in the lives of locals in Beijing.
Beijing has a 2,000-year-history of willow tree planting. Locals felt a strong affection to these trees and named many hutongs and alleys in Beijing using the Chinese character for "willow".
Cooking willow buds in March is also a tradition in Beijing.
Pale green and light yellow, willow buds can only be used for food before the tree blooms. According to the theory of traditional Chinese medicine, willow buds can help the detoxification, a good choice for spring when the temperature rises and viruses are active.
Willow buds are often thoroughly washed and boiled in hot water for a few minutes. Then cold water is added to cool down the boiled buds, which are then blended with salt, vinegar, mashed garlic and a few drops of pepper oil to make a willow salad.
Willow cake is another delicacy. Chop the willow buds into pieces and add some sugar and flour. Then bake the two sides of the cake until the color turns into gold yellow. Tea made from dried willow buds has a special and fresh taste. It can soothe the eyes and is good to the liver. Liver in traditional Chinese medication stands for "vigor". In spring, a season when all the living creatures begin to prosper, the liver needs food and beverages to help it to provide more energy to accelerate the process of metabolism.