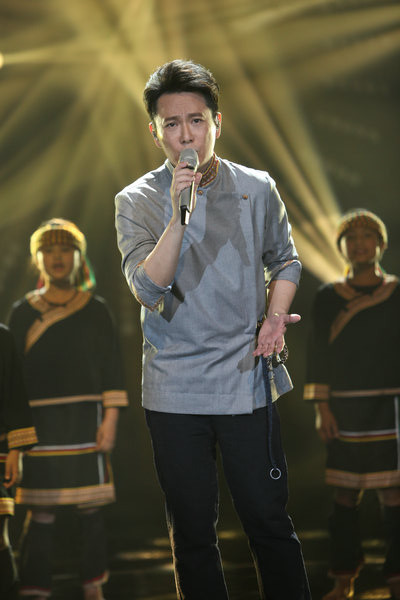 Jeff Chang performs in Hunan Satellite TV Station's variety show, I Am a Singer.[Photo provided to China Daily]
On record, he is eternally a singer of love ballads, with hundreds of heartbreaking and comforting songs shared with fans since the 1990s.
Sitting on a sofa in a hotel in downtown Beijing, Jeff Chang is soft-spoken and talks like an old friend. He chats enthusiastically about his career, spanning more than 30 years, and his upcoming tour, Love Light Year, which will bring him to Beijing on April 30.
With 34 studio albums and more than 25 million copies sold all over Asia, the Taiwan pop singer has a large fan base though his public appearances are rare.
"The longevity of a singer's career depends solely on the songs he or she performs. You have your feet firmly on the ground and focus on what you are comfortable doing. To me, success came with the music and that's what I do," says Chang, 48.
His recent participation in the fourth season of the popular variety show, I Am a Singer, produced and aired by Hunan Satellite TV Station from Jan 5 this year, surprised many.
When he performed one of his hits, Faith, viewers were taken down memory lane with his breathy voice.
Besides his genre-defining sound, and smooth and romantic love songs, Chang tried something new at the show-chorus singing.
Viewers were impressed by Chang's performance of a classic pop song, My Dear Child, with the a 22-child choir from Taoyuan village of Taitung county in southeast Taiwan, singing in eight-part harmonic tones, a traditional singing technique of the Bunun tribe, the fourth largest of Taiwan's indigenous tribes.
According to Chang, the TV show's production team had been inviting him to join the show ever since its first season.
But he did not agree until the director of the show, Hong Tao, agreed to let the children perform along with him.
"There are many underprivileged children living in the mountainous areas of Taiwan. I insisted on bringing them onto the stage because they are born singers and I want to help them show their talents," says Chang.
"Viewers were touched by their performance and my goal will be achieved if we can make some changes to their lives."
On March 11, Chang won first place in the competition by combing Chinese pop-rock singer-songwriter Pu Shu's song, Ordinary Road, with the chart-topping, Furious 7 soundtrack single, See You Again. He also invited a choir from Taiwan, which has three big, young female singers.
His appreciation for chorus singing comes from his own experiences.
The son of a priest in a local church in Yunlin county in western Taiwan, Chang grew up listening to choral singing in church.
His musical talent was recognized after he won a singing competition while at college. Then, armed with a contract from Taiwan's Rock Records, Asia's biggest independent record label, Chang started his career as a professional singer.
Thanks to his clean, high-pitched voice, which was different from the other deep and gravel-voiced male pop singers then, Chang achieved big success starting with his debut album, Lie, in 1989.
Later, with help from veteran Taiwan singer-songwriter Jonathan Lee, who wrote many love ballads for Chang, he gained wide popularity across Asia.
In 1995, he founded a music studio and began to cooperate with mainstream record companies, including EMI and Sony BMG.
And yet, Chang started over again as an independent artist in 2006 due to the transition from CDs to digital downloads and the general decline of the record industry.
"I felt very sad and disappointed when the record companies sacrificed music to make money. My team was changed three times and I didn't even record a single song," says Chang.
He left the record company before his contract was up and took a break to figure out what he wanted to do next.
In 2012, he returned with an album, Spare Time, which contained not only his trademark love songs but also saw an audacious experiment with rock and hip-hop.
During his break from the music scene, he performed in theater plays and movies, which, he says, was training for him, and which helped him widen his horizons.
He also became antique collector in the meantime.
Last June, he exhibited more than 70 items of royal clothing related to the Qing Dynasty (1644-1911) at the Taipei National Museum of History.
From furniture and tapestry to embroidery, Chang now has thousands of antiques.
"Collecting antiques is a way of connecting with the past. With each item, I learn its history and culture," he says.
Chang will take a break after touring Taipei, Shanghai and Beijing, traveling and spending some time with his family in Taiwan.