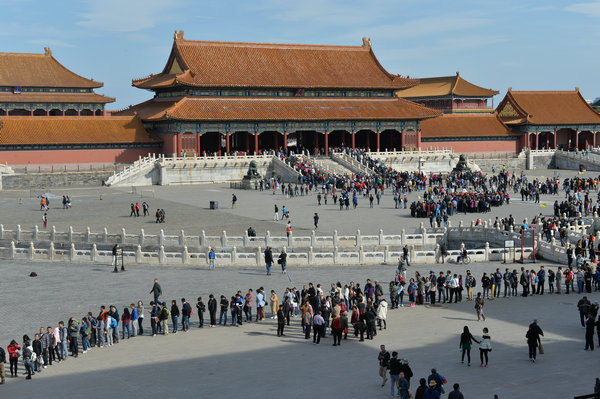 Like all things natural, cultural events and trends do not happen in a vacuum or a prearranged manner neatly framed by a calendar. A rundown of 2015's most significant, as selected by our editors and reporters, represents our efforts to capture what is essentially amorphous in a continuum. As such, they tend to have impact beyond a single field or time frame and, as a whole, may help define a society with evolving tastes and pursuits. Whatever one may glean from these soft tissues of our society, they animate our era with a dynamism uniquely our own.
1 Special show marks Palace Museum's 90th anniversary
When people wait in lines after midnight only to see a long-hibernating scroll painting, it is more than an exhibition. It is a once-in-a-lifetime cultural excursion for many visitors.
The Palace Museum in Beijing, also known as the Forbidden City, opened its two-month special exhibition titled The Precious Collection of the Stone Moat, which included 283 of the finest ancient paintings and calligraphy works from the former royal collections.
Along the River During the Qingming Festival, generally considered to be the most well-known ancient Chinese painting, was completely unrolled for the first time since 2005, and is the reason why people were so excited.
The work by Zhang Zeduan (1085-1145), which is 24.8 centimeters wide and 5.29 meters long, depicts a flourishing landscape in Bianjing, the capital of the Northern Song Dynasty (960-1127).
The eye-catching display was the main event marking the 90th anniversary of the opening of the Forbidden City, China's former royal palace, to the public as a museum.