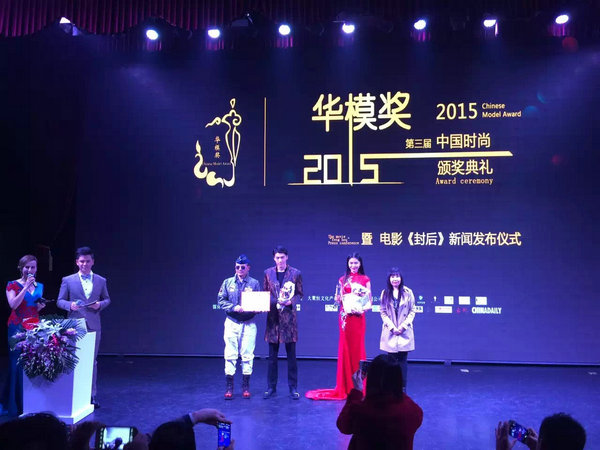 Yu Wanru (second from right) and Zhang Jiawei (third from left) are recognized as the Cheif Models at the ceremony. [Photo provided to chinadaily.com.cn]
The winners of the 3rd Chinese Model Award were crowned on December 23 in Beijing, drawing the spotlight on the country's new fashion power.
The annual event aims to advance Chinese traditional culture and to innovate and explore national fashion elements, creating a platform where different areas of the fashion industry can exchange ideas, communicate and integrate with each other. Apart from best model awards, award categories for costume designers, jewelry artists, photographers and makeup stylists were also included.
After rounds of selection, Yu Wanru, the image ambassador of the New Silk Road Bikini Miss World Pageant and Zhang Jiawei, supermodel and actor, won the title of "Chief Model" of the 3rd Chinese Model Award.
The awards ceremony was followed by a news conference for a fashion-themed movie, Crowned as Queen (Feng Hou) that tells the story of a young woman pursuing her dream to be a model. Shooting will begin in April.
The event was organized by the Chinese Cultural Tourism Industry Investment Committee and Da Ju Heng Cultural Industry Development (Bejing) Co Ltd.