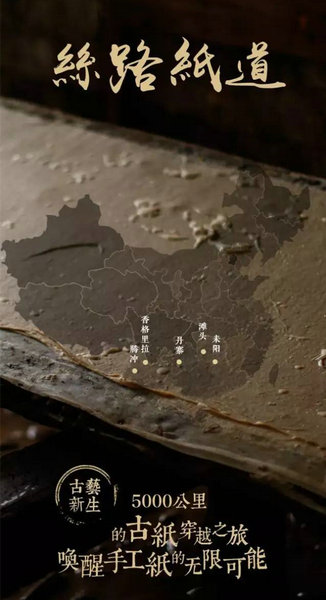 Great Seed produced a documentary after their 5,000 -kilometer journey across Yunnan, Guizhou, Hunan provinces to explore the ancient art of papermaking. [Photo provided to chinadaily.com.cn]
As the country is paying more and more attention to its advancement of intangible cultural heritage, China's paper culture, with its thousands of years in history, is becoming the center of attention.
After concluding a month-long research and video-documentary on ancient papermaking, a special symposium highlighting Chinese paper cultural heritage was held at Tsinghua University on Dec 12.
Organized by Great Seed, a startup aiming to build an online community to preserve the world's intangible cultural heritage, a team of experts, artists and media have conducted a 5,000 km journey across Yunnan, Guizhou, and Hunan province exploring the ancient art of papermaking, a journey that lasted from October to November.
Valuable heritage in Chinese culture
"The Chinese have a deep and special emotion attached to paper. It's a kind of national sentiment," said Tang Shukun, committee member of experts on the protection of paper heritage in East Asia by UNESCO. Tang participated in the discussion along with other experts, artists and papermaking inheritors.
Tang stressed that China is the place where paper was first invited and that the creation plays an essential role on the country's history advancement and aesthetic system.
"Different from the West, traditional Chinese art creations, such as paintings and calligraphy, are conducted on paper. Paper shapes our artistic taste," Tang said, emphasizing the importance of ancient papermaking research and protection.
Tang's comment echoed Wang Yiqiong's experience. Wang is a well-known Chinese contemporary artist. He demonstrated his works painted on different types of handmade paper, including Xuan, Ma, Zhu and Teng.
"Different paper has different textures and feelings, which makes different artistic effects on your work," Wang said. "Paper gives you a certain frame and keynote, based on which you create." Wang explained that to follow paper's features and to make the painting match the paper is an interesting yet essential process.
"There is not bad paper, only bad artists," he encourages painters to try different paper.