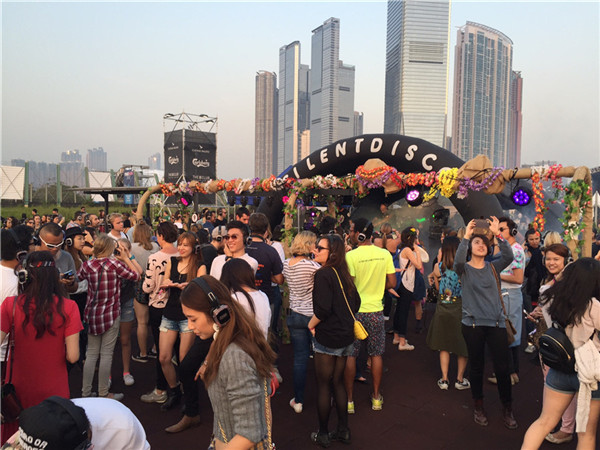 Warm up event of the Listen Paris 2015 outdoor gathering held in Hong Kong at Clockenflap in November. [Photo by Listen Paris 2015 / for chinadaily.com.cn]
While the world's leaders are trying to reach a consensus on climate change, the world's top DJs are gearing up for the worldwide silent disco party to be held this weekend.
"We want to bring the world together in a positive way, to show that the global community do care about what can be achieved at the talks, so we organized the event to tell the leaders that we are listening and watching," said Doug Woodring, UNEP Climate Hero and organizer of this event.
According to Doug, starting from 12 midnight Beijing time on December 5, DJs who signed up for the activity will be playing their best remixes during the 24-hour event at the beatport website, and people around the world could take part in the activity by tuning in to the same music at the same time.
"Participants can organize their local events with their headphones and a smart-phone to stream the music on our website, and then they can dance-walk their way through their cities, voicing their desire for a sustainable future. They can initiate their activity and post their pictures on social networks such as Facebook, twitter or sina microblog, adding hashtag #ListenParis2015# or #EarthToParis#."
Though the activity was planned relatively late, Doug told China Daily website that DJs who received the invitation are actually eager to be part of it. "The ones who signed on realized the power of the activity could create, and they are happy to do that," Doug said.
Zhang Youdai, China's famous DJ, the only one from China invited to the activity, said he gladly accepted the invitation upon receiving it. "I have long been wanting to introduce the silent disco to China since I took part in such an activity years ago in Europe, and now it's time," he said.
"The disco we used to know happens in a dance hall or a club, with loud music and bad air. Yet silent disco avoided both, enabling people to enjoy music parties without disturbing others. It is a healthy lifestyle as people can also dance in open spaces like the park or something."
During the activity, Zhang will be playing New Disco and House music, including the latest remix of his favorite "Hotel California".