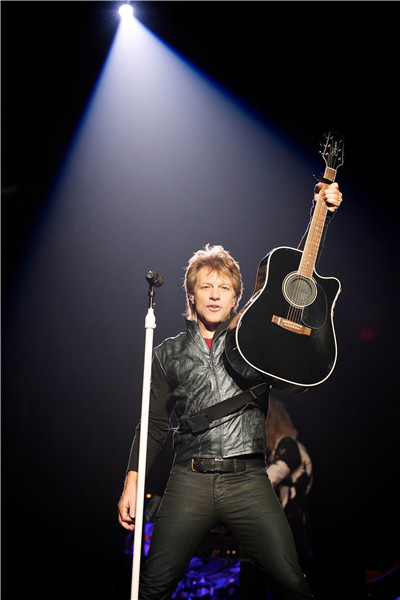 Jon Bon Jovi says his group has been getting to know China. [Photo provided to China Daily]
"It is too good to be true" was Wang Guan's first reaction on hearing Jon Bon Jovi and his band will make their China debut at the Mercedes-Benz Arena in Shanghai on Sept 14.
The venue, where the US lead singer of his namesake band will perform, can hold up to 18,000 people.
As for Wang, a 33-year-old Beijing native who has been listening to the band since he was 12, now is the time to get excited.
Wang was first drawn to Bon Jovi in the early 1990s because of the way the band members looked in photos in their leather jackets and long hair.
After he had listened to their hits, such as Always and Someday I'll Be Saturday Night, Wang became a loyal fan and collected all their albums and the lead singer's solo numbers, too.
"There is no doubt their performance in China will become one of the most memorable experiences of my life," says Wang, adding that he paid 980 yuan ($153) for the ticket.
The band announced in early August that it will play one more gig in Beijing on Sept 17.
The Chinese singer-songwriter Gao Xiaosong writes in his social media post that when he began his own band while studying at Tsinghua University in 1988, he sang Bon Jovi's songs and translated the lyrics into Chinese.
"It is such a good memory. I am looking forward to the shows," writes Gao, who has nearly 40 million followers on Sina Weibo, the Chinese equivalent of Twitter.
He is now the chairman of the newly formed music company Ali Music, which is part of the e-commerce giant Alibaba Group.
The rock band, founded in New Jersey in 1983, consists of Bon Jovi, drummer Tico Torres, keyboardist David Bryan and bassist Hugh McDonald.
"Over the years, we have been all over the world," Jon Bon Jovi tells China Daily by e-mail.
"(With) each tour, our reach expands and this year, we are excited to finally have the opportunity to perform in China."
China, he says, felt "very foreign" to them earlier, but over time they have heard stories about the growth.
"We (would) love to sightsee and try the local food. Sitting around a hotel room is so boring. Maybe a golf game in the morning and then go experience what the nightlife is like. We really like to see what unique activities there are in each city."
Jon Bon Jovi has reached out to his fans in China by performing the classic Chinese love ballad The Moon Represents My Heart, in Mandarin, and released the video on his website on qixi or Chinese Valentine's Day that fell on Aug 20 this year.
"We have been making hits for over 30 years and we will bring a spectacular show to the people in China," the website says.
With 13 studio albums, the band has sold more than 130 million albums, making it one of the best-selling groups in the world.
In July, the band released two singles, We Don't Run and Saturday Night Gave Me Sunday Morning, for its upcoming album Burning Bridges.
Jon Bon Jovi describes the band's music as being about "individual freedom and expression".
"All the members of Bon Jovi have very eclectic and differing tastes in music ranging from jazz to Broadway musicals," he says.
"The dream never changes; that's what keeps you going forward."
If you go
8 pm, Sept 14. Mercedes-Benz Arena, 1200 Expo Avenue, Shanghai.
8 pm, Sept 17. Mastercard Center, No. 69, Fuxing Lu (Road), Beijing. 400-610-3721.