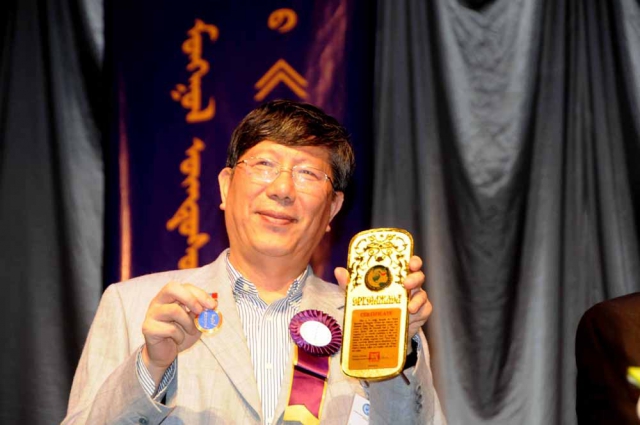 An Boshun, the friend of author of Wolf Totem, receives the Bichgiin Mergen Prize awarded by the World Mongol Authors Association on behalf of the writer Jiang Rong in Ulan Bator, capital of Mongolia. [Photo/ifeng.com]
Chinese writer Jiang Rong, author of best-selling fiction Wolf Totem, was recently awarded the Bichgiin Mergen Prize (Genius Writer Prize) by the World Mongol Authors Association in Ulan Bator, capital of Mongolia.
According to the organizer, although Jiang became the first Chinese writer to win the highest award of the World Mongol Authors Association, he was unable to receive the prize in person due to work schedule, but asked An Boshun, his friend and commissioning editor of Wolf Totem, to attend the ceremony on behalf of him.
An said at the ceremony that he was very happy to represent his friend and receive the award on his behalf. "The relationship between Mongolia and China is expanding in many sectors. Cultural exchange is of special significance to us all," he added.
Jiang delivered his acceptance speech afterwards in China. He stressed that he was so happy to be awarded by the World Mongol Authors Association and his Mongolian readers by his maiden work. "I love and respect the history, culture and tradition in the boundless prairie, so it is really exciting to receive such a tribute from the people in Mongolia," he said.
Jiang also announced that he has decided to contribute all the copyright royalty from the Mongolian version of Wolf Totem and money of the Bichgiin Mergen Prize to an environment protection foundation in Mongolian.
In an interview with Wuhan Evening News, An told journalists that the there were at least two reasons for Jiang's winning the award in Mongolia.
"First, it proves that Mongolian people do have their faith, and have a special affection to wolves. You know, rumors began spreading early this year that Wolf Totem was a cultural fraud. Now the acceptance of readers in Mongolia shows that the rumor was nonsense. Second, it is a huge affirmation for both the author and editor,"he said.