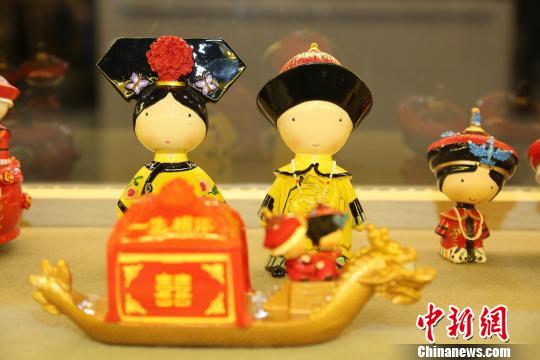 Cute figurines are among the cultural souvenirs available from the Palace Museum. [Photo/Chinanews.com]
The sales volume of cultural and creative products from the Palace Museum in Beijing reached 700 million yuan during the first half of 2015, exceeding total sum in 2014, Shan Jixiang, curator of the Palace Museum, said on Tuesday.
The abundant collection of cultural relics at the Palace Museum is the inspiration for the creative souvenirs and cultural items available.
"Regarding product development, we study people's demands and based on that we create some cultural items that are interesting and practical to use," Shan said.
The museum now owns a great variety of more than 7,000 items, including key rings, fridge magnets, wallets, T-shirts and mobile phone shells.
The museum's items also keep pace with the times. A Day of the Emperor, an app that helps children learn about how an emperor lived, worked and entertained during the Qing Dynasty (1644-1911) was also launched in 2014. It is said that more apps produced by the Palace Museum will go online this year.
Cultural souvenirs at the Palace Museum have become increasingly popular. For example, annual sales of a Palace Museum calendar increased from 18,000 copies when it debuted in 2009 to 250,000 copies during the last five years.
Customers can not only buy cultural items from the Palace Museum's Taobao store, but also from retail stores on Wangfujing Street, at Capital Airport and the museum itself. Moreover, Shan said that the museum is expanding its stores in some other places to meet the market needs of customers.
The Palace Museum's cultural creative industry has great potential, and through the development of cultural items and new media platforms, the ancient and solemn Forbidden City is getting closer to people.