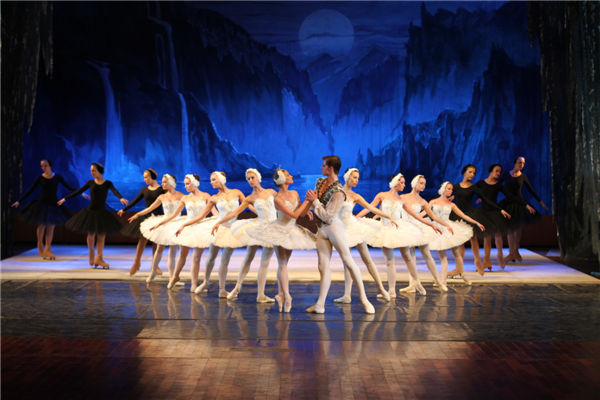 Photo provided to China Daily
"You will see a variety of art forms in the new production, especially circus arts on ice, such as hula-hooping and rope-skipping."
Usmanov says the stage is designed in two parts-the ballet stage in the front and the skating area behind. As the story progresses and dancers display different artistic techniques against a 3-D screen on the backdrop, the show transitions smoothly from displays Russian ballet to pure athletic grace.
The company toured China last summer with the first version of the ice-ballet show Swan Lake in cities such as Beijing and Guangzhou, where it was well-received.
On the current trip, Chinese elements such as kung zhu, the yo-yo-like Chinese bamboo diabolo, will be displayed in the shows by Russian actors on ice.
"The show is performed by professional ballet dancers, figure-skating athletes and highly skilled circus actors from some of the best circuses in Moscow. It was quite challenging to train the actors to perform in different art forms but we did it," Usmanov adds. "When we first had the idea of mixing classical ballet, sports and acrobatics together in one show, it was a very risky attempt. But Russian is famous for those three elements and we believe that audiences from different countries will be immersed in a magic atmosphere, showing love and death, glamour and sorrow."
In the new production, the male lead will be Alexander Butimovich, winner of the theatrical Russian prize Nizhegorodsky Perl in 2001, as well as the 9th International Contest of Ballet Dancers and Choreographers in Moscow.
The female lead dancer will be Natalia Kungurtseva, third-prize winner at the competition of young dancers in Japan's Naghoya in 1991, and winner at the competition Arabesk held in Perm, Russia in 1992.