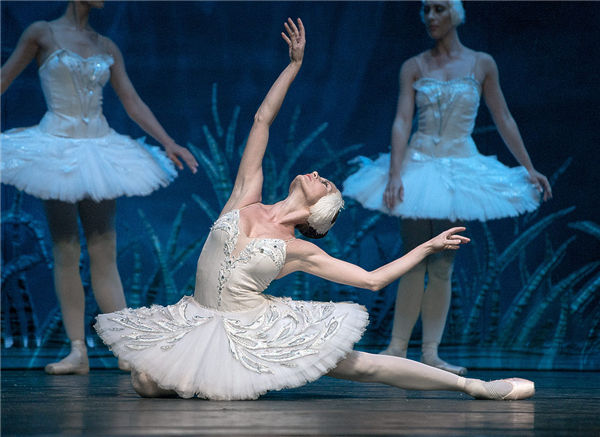 Moscow Ballet Theater will stage in Beijing a new production of Tchaikovsky's masterpiece, Swan Lake. Photo provided to China Daily
The classical art form requires plenty of athleticism, but a new show takes dancers' strength to new dimensions, Chen Nan reports.
Born in Kazakhstan, Khasan Usmanov studied ballet in Moscow since childhood and danced with troupes in the United States, Europe and Japan, so he believes that ballet is a universal and timeless language.
Ever since he founded Moscow Ballet Theater in 2004, his main goal has been to carry on with the energy and eloquence of Russian ballet while reviving its creative spirit.
As the artistic director and principal dancer of the company, Usmanov has been trying to give classical ballet a modern twist. Now he is touring with one of his most ambitious undertakings for Moscow Ballet Theater-a new production of Tchaikovsky's masterpiece, Swan Lake, featuring contemporary ice dance, classical ballet and acrobatics while retelling the story of Prince Siegfried and Princess Odette.
With more than 40 actors of Moscow Ballet Theater, he will put on the show in Beijing on Aug 15-16 at the Theater of Beijing Exhibition Hall.
"The new ice ballet show Swan Lake is more like a dance drama. It is quite different from the first version, in which we combined classical ballet with ice dance," says Usmanov.