Almost two months after Gaokao, China's national college exam, anxiety-ridden candidates finally breathed a sigh of relief after receiving acceptance letters from universities and colleges. Right now, many of them are busy sharing their good news on social media such as WeChat and microblogs.
Since the start of the new century, letters of acceptance have became more fashionable and functional, with a sense of design, in China. This year, universities and colleges are putting more effort on letters of acceptance to show their individuality and appeal more to students.
Peking University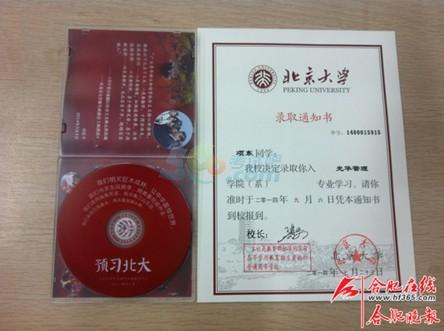 [Photo/Hf365.com]
The letter of acceptance comes with a special CD named A Preview of Peking University. There is an E-book, a mini fiml, E-cartoons and a 3D RPG game in the CD. Freshmen can learn how to register, receive a campus ID card, select courses, get food in the dinning hall, participate in community and go to the library by playing the game.