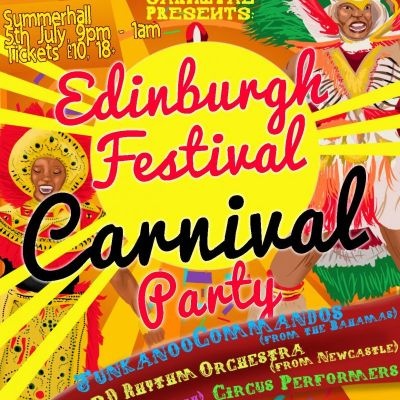 A poster of 2015 Edinburgh Festival Carnival [File photo]
A large banner was spotlighted with "Silk Road In The World" in English and chinese characters to highlight Silk Road and the Chinese civilization in the grand parade at Edinburgh Festival Carnival on Sunday.
The banner aims to impress the Carnival visitors of the Silk Road Spirit, "peace and cooperation, openness and inclusiveness, mutual learning and mutual benefit", the Chinese community organizers at Edinburgh said.
Along with the banner, a dragon held aloft on poles, swayed against the blue sky in time with the sound of traditional Chinese drums and cymbals clattering together.
Underneath the long, twisting body of the dragon, two pairs of lion dancers weaved in and out of the procession, playfully snapping their cloth lions' jaws and batting their eyelashes at the mesmerized audience lined up along the roadside.
Just behind them, Tai Chi performers clad in flowing, yellow silk robes struck poses in harmony.
It would have been easy to mistake the scene for one right out of the heart of China herself, were it not for a few details that seemed amiss -- the Edwardian and Victorian architecture, the castle and the word "Scotland" printed on the back of one of the Lion's heads.
The procession was down the Mound, along Princes Street, and eventually into Princes Street Gardens in Edinburgh, capital of Scotland in northeastern Britain.
Roughly 260 members of Edinburgh's Chinese community, ranging from children to seniors, and Beijing middle school students, were taking part in the Edinburgh Festival carnival in a show of pride and celebration of their homeland's culture.
The Beijing students danced in traditional costumes to the enjoyment of onlookers from around the world.
The Chinese performers were joined by more than 500 other performers from 13 countries including Italy and Hungary as they showcased the unique flavors and musical traditions of their respective homes in the midst of rain.
The Edinburgh Carnival procession is an annual event organized by the Edinburgh Jazz and Blues Festival which was set up in 1978, and marks the beginning of Edinburgh's Summer Festival season and a series of Edinburgh Festivals.
Apart from the Edinburgh Jazz and Blues Festival from July 17-26, there are also Edinburgh Art Festival from July 30 to August 30, Edinburgh Military Tatto from August 7-29, Edinburgh Festival Fringe and Edinburgh International Festival both from August 7-31, as well as Edinburgh International Book Festival from August 15-31 among others.