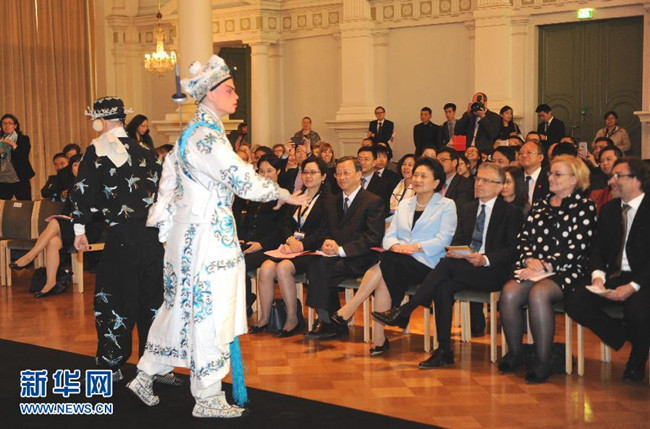 Liu Yandong (4th R, back) watches a Peking Opera show performed by Finnish actors at the opening ceremony of Focus China, an extensive showcase of Chinese arts andculture during the 40-year-old Helsinki Festival. [Photo/Xinhua]
The cultural exchanges between China and the European Union (EU) are very successful, said EU Commissioner for Education, Culture, Youth and Sport Tibor Navracsics in a recent interview with Xinhua.
The programs that help promote the comprehensive strategic partnership between China and the EU are concentrated on commercial, cultural and educational issues, said the commissioner.
He added that "those are the areas that we can do the most, because culture and education are the best and most efficient between two political entities, two nations, two different areas of the world, in approaching each other. It's good and fundamental for the friendship in the future."
When asked how to further advance exchanges between the two sides as the EU commissioner, Navracsics said he would focus on culture, education, sports, etc.
"In Europe, there is a growing interest towards China as well as a growing number of the Chinese language courses at school," said Navracsics, adding that "in the near future, I think there will be an increasing number of European students who would like to study in China," he said.
The creative industry has become a new economic growth engine in the EU. "China is a great power in culture, and the EU has a very strong creative industry based on the cultural achievements and creativity. So I think there could be, and must be cooperation between China and EU," said Navracsics.
As youth employment is attached great importance both by China and the EU, Navracsics pointed out that the youth employment and the situations of the youth in the Europe probably is the top challenge and it's also the challenge of the future.
He said the EU would like to tackle this challenge by reforming the education system, enhancing the importance of employability, including practical knowledge, practical skills, the preference over the pure theoretical knowledge and academic disciplines.
"In that respect, all the experiences of the education reforms of other countries are very interesting for us. So we would like to build in China's experiences, or other countries' experiences," said the commissioner.
Moreover, he said that vocational education also is a high priority in the European education system so as to help tackle the youth employment.
"We had a lot of policy debates about the reforming of education system and training. There is a strong commitment in the member states to make vocational education training system more efficient, more practical," said Navracsics.