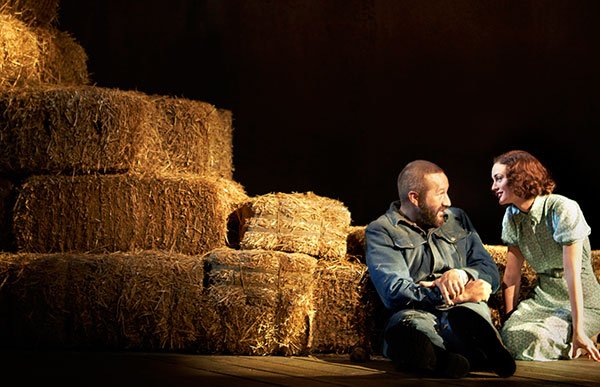 Scenes from Of Mice and Men and Coriolanus. They are among the 10 shows of Britain's NT Live screening in Beijing and Shanghai through September. [Photo/China Daily]
Broadcast allows audiences to watch theater being performed on the other side of the world. Chen Jie reports.
Chinese theatergoers are enjoying a treat this summer with Britain's National Theater Live broadcasting 10 shows in Beijing and Shanghai, including productions featuring actors Benedict Cumberbatch and Tom Hiddleston.
Britain's National Theater Live, known as NT Live, first came to China in June 2012, when it broadcast Frankenstein starring Cumberbatch, at Beijing's MOMA Broadway Cinema. Tickets sold out within hours.
NT Live has held occasional screenings of Frankenstein and Coriolanus in Beijing and Shanghai throughout the past three years and demand for the screenings has continued to be strong. Now, as part of the 2015 UK-China Year of Cultural Exchange, NT Live is collaborating with the National Theater of China to bring more productions to China. The screenings will run through September.
"The National Theater of Great Britain has a strategic partnership with the National Theater of China, which at its heart is a skills exchange. This will culminate in the Chinese production of War Horse that opens in Beijing in September. Bringing NT Live to China is the latest development in the collaboration," says the general manager of NT Live, Flo Buckeridge.
"China has a fantastic theater tradition and there is a huge range of work created in China that is very interesting and exciting. We are thrilled to be showing our productions to Chinese audiences," she says.
Buckeridge says they are planning a long term partnership with the National Theater of China and they are working together to plan not only next year's season, but further into the future.