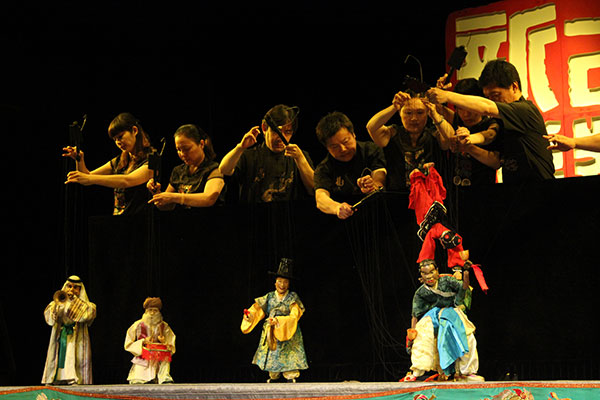 Members of the Quanzhou Marionette Troupe give a performance. The city of Quanzhou in Fujian province is home to traditional Chinese marionette. [Photo by Wang Kaihao/China Daily]
Marionettes have a rich tradition in China, where puppeteers are desperately trying to preserve the art form for future generations. Wang Kaihao reports from Quanzhou.
The 200-year-old yard tucked away in an old neighborhood of Quan-zhou, Fujian province, is more like a temple than a theater.
A statue of the "God of Marionettes" is worshipped in the middle of the hall. After burning incense to pay homage to the deity, performers from the Quanzhou Marionette Troupe begin to practice the complex manipulation of the puppets with their fingers.
Xia Rongfeng has been in the troupe for 32 years. He has only accepted two apprentices.
"Not everyone is talented enough to handle 30 strings at the same time," the stage veteran explains. "I can teach many students, but I am picky when choosing apprentices."
It can take 10 years of training to become a mature marionette practitioner: from the making of puppets to performance and singing.
"One of the most important disciplines is that the puppeteers have to participate in every process of the show," Xia says, clutching his monkey puppet, which has accompanied him for years, and just impressed another audience by riding a bicycle and performing acrobatics.
"Only in that way will they learn to love the puppets like their own children."
When Xia first joined the troupe they only had 10 puppeteers, who were struggling to revive the thousand-year-old tradition in the aftermath of the "cultural revolution" (1966-76). Luckily for locals, marionettes have always been part of their daily life: In Quanzhou, marionettes are ubiquitous at weddings, funerals and other major celebrations and worshipping ceremonies.
For locals, puppets are the "media between humans and heaven."