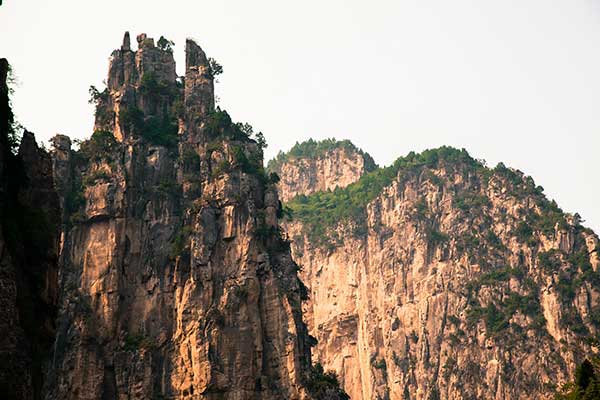 Taihang Mountain is a scene of unfettered peace and an important geological dividing line.[Photo by Li Mengyuan/China Daily]
Immerse yourself in China's most ancient province and take away moments for a lifetime.
There are many places in the world that are worth a visit. Some are spectacular, like the Pyramids; some are intriguing, like Stonehenge; and recent exploration makes many others worth a look.
After visiting more than 30 countries, I'm hard to impress. I can't remember the last time I was blown away when seeing a new place.
Yet, that's what happened during my recent visit to China's Shanxi province with a group of foreigners sponsored by China Daily and the Shanxi Tourism Bureau.
Shanxi is not only the birthplace of the Chinese financial industry but also the cradle of nation's 5,000-year history. It holds a plethora of rivers, mountains and unique natural landscapes. Shanxi has rich tourism resources that I'm sure an increasing number of visitors will be enjoying in the coming years.
What is special about Shanxi is that it is traditional and at the same time original, in that it represents Chinese history and culture through its particular architecture and legends.
I was expecting the weather to be cold because we were traveling up to the mountains. But we were favored with a cool breeze and warm rays.
The province is famous for four things: coal (it produces one-fourth of China's supply); fen jiu, a mild aromatic Chinese liquor; vinegar; and noodles. During this great trip we visited the Grand Canyons of Taihang Mountain, the Old Town of Pingyao, Wangmang Mountain, the Cliff Road in Xiyagou and the Royal Residence of the Prime Minister. At the end, we watched a great show of Qing Dynasty.