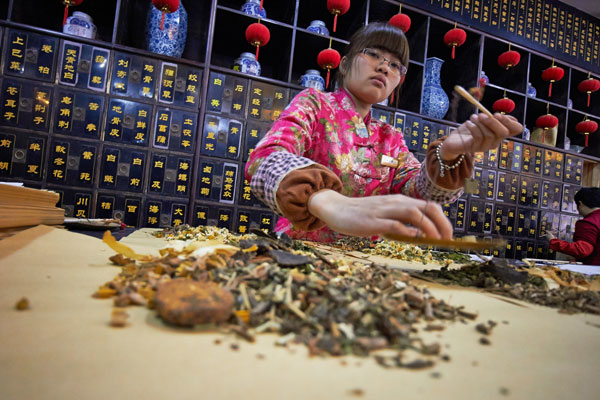 The quality of medicinal herbs is one of the major concerns in the development of traditional Chinese medicine. [Photo provided to China Daily]
Last week, the State Council, China's cabinet, released a five-year plan to promote traditional Chinese medicine, with the aim to boost the presence of traditional Chinese medicine in the country's healthcare system and also enhance its competence abroad.
But, according to a recent survey report published by the Social Science Academic Press (China), it could take longer than the next few years before TCM finds greater acceptance even among Chinese people.
The State Council's roadmap for TCM was out on May 7.
In the survey, only 29 percent of the respondents in Beijing said that they sought medical help from TCM practitioners often, and 67.8 percent said that they seldom resorted to TCM healthcare services, while 3.2 percent never used such treatments, according to Blue Book of TCM Culture: Report on TCM Culture Communication Development of Beijing 2015.
The report comprehensively accounts for the development and propagation of TCM culture in Beijing and is also the first full paper in China that discusses strategies to promote TCM culture in the country and the challenges the task faces.