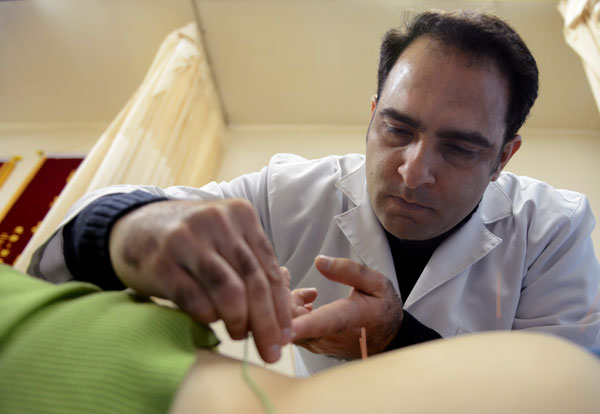 Fernando Davino, a postgraduate student of traditional Chinese medicine, performs acupunture on a patient at the Institute of Acupunture and Moxibustion of Chinese Medical Sciences. [Photo by Bruno Maestrini/China Daily]
Many patients in Beijing are surprised and even shocked when they first meet one unique practitioner of traditional Chinese medicine.
"Laowai! Laowai!" they often cry, as if there is any question that the muscular 38-year-old intern, who towers over most of his patients at 1.87 meters tall, could be anything but a foreigner.
Fernando Davino, who has worked at six Beijing hospitals while completing his master's degree in TCM, says it usually takes a few days for his patients to respond to him as a doctor. But, by the end of the week, they are requesting that he treat them.
The surprised reaction is just one of many difficulties the Brazilian faces studying a quintessentially Chinese discipline in the country of its origin. Some are minor - his lab coats, although custom-made, are too small for his frame - others are more serious - although he is now fluent in Chinese, in addition to his native Portugese and conversational English, that has not always been the case.
Davino, who is from the city of Ouro Preto, in the state of Minas Gerais, holds two undergraduate diplomas in TCM - one from Brazil and the second from the Beijing University of Chinese Medicine - and expects to complete his master's degree next year.
His Chinese medicine classes in Brazil were taught in Chinese by Chinese doctors, through interpreters, so Davino was familiar with some medical terms when he arrived in Beijing in 2006. He had none of the Chinese language needed for everyday living, however, and says that, at that time, Beijing was a much more difficult place to live as a foreigner.