Man kills ex-girlfriend with GPS help, TCM and Western medicine locked in duel, graduate earns millions after quitting job.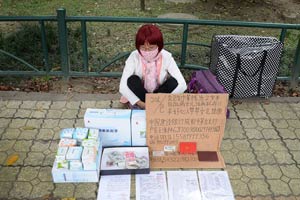 Man who sold napkins for daughter back with plan
Rumors that a man disappeared after getting 1.4 million yuan ($228,530) in donation for his daughter suffering from leukemia have been quashed after he turned with a detailed plan on Monday, according to Chengdu Economic Daily.
The father, whose case caught media's attention after he started selling sanitary napkins dressed as a woman to raise money for his daughter, said he had gone to contact hospitals for earliest surgery of his daughter and arrange the donation money leading some to speculate that he had disappeared with the cash.
He said he plans to use 1 million on his daughter's surgery and donate the rest to other people in need.
Related: Beijing boy receives heart donation from Guangxi man

Man tracks ex-girlfriend with GPS, kills her
Married woman who previously had a three-year relationship with a man was killed by him over financial dispute, reported a local newspaper based in Xi'an city on Monday.
The man, who held a grudge against her after their split, bought a GPS tracker and installed it on the woman's motorcycle. On Sept 29, he sneaked into the woman's house and strangled her when the tracker showed that she's at home.
Related: Why do foreigners love to date leftover women?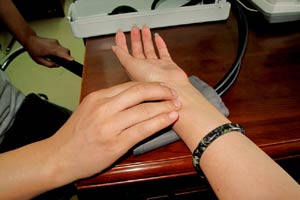 TCM and Western medicine locked in duel
Doctor who does not believe in traditional Chinese medicine (TCM) has offered 50,000 yuan ($8,162) reward to any TCM practitioner who is able to predict pregnancy with 80 percent success rate just by checking the pulse, according to a metro newspaper in Chengdu on Monday.
A traditional Chinese medicine doctor with more than 20 years experience in Chengdu has accepted the challenge claiming that he can not only tell a woman's pregnancy, but also when a woman will have her next period just by feeling her pulse. He has offered 200,000 yuan as a counter challenge against Western doctors.
Related: China finds irregularities in TCM products

Graduate earns millions after quitting job
Graduate from a prestigious university gave up his decent and stable job and began selling special local products online, which now net him almost a million yuan in turnover each year, according to People's Daily on Monday.
Ma Yongsheng was the envy of his village, a place where those with high school diploma are regarded highly educated, when he secured an admission in a prestigious university. When he quit his job and started selling local products brought from their village, his father felt humiliated. His dad even warned him not to come home during Spring Festival.
But Ma was convinced that his business will take off and now two years later it has blossomed.
Related: First job fails to satisfy grad