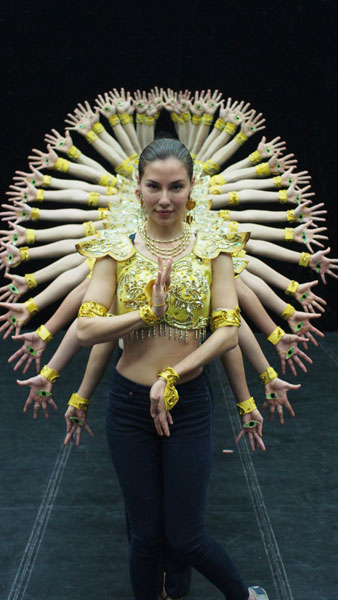 Keller will present Discovery's Passage to China show.[Photo provided to China Daily]
The show will be presented by Denise Keller, a Singaporean TV host of Chinese and German ancestry, who describes the show as her "very personal journey". Keller spent months on shooting for the documentary in 10 Chinese provinces, and says it will be presented through her first-person account of exploring her roots.
"Before I came here, everybody told me that Chinese people don't have smiling faces, but it's so untrue. People here are very hospitable and people always smile at me. That's a good way for communication beyond language," she says of her recent experience while working in China for the channel. Keller also hosts the Passage to Malaysia documentary on Discovery.
Passage to China will not just spotlight traditional Chinese art, which is often showcased on Chinese TV for foreign viewers, but will also have space for modern artists such as composer Tan Dun, whose work Water Heavens will be shown as part of a Shanghai section. Keller's visit to a Beijing dancing troupe for the hearing impaired will be a human interest feature.
"It's a creative trial to meet overseas audiences' need to know Chinese culture better," says Li Liyan, assistant secretary of the External Relations Bureau under the Ministry of Culture. He adds that cooperating with leading media groups such as Discovery will help take Chinese culture abroad.
"The show tells Chinese stories more vividly, and focuses on the inheritance of traditions as well as its modern development and communication with world's civilizations. It will also promote a cross-border dialogue of culture in the future."
For more information on the documentary, go to www.discovery.com and www.chinaculture.org.