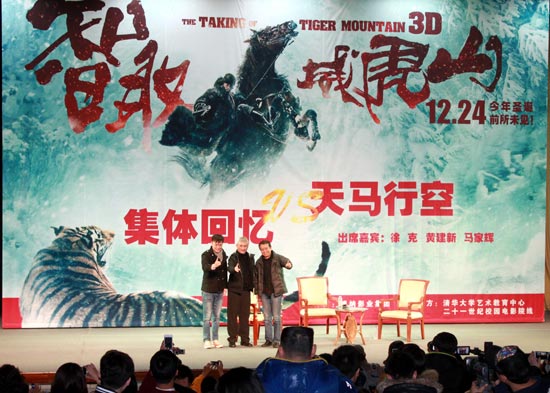 Hong Kong filmmaker Tsui Hark (C), producer Huang Jianxin (R) and actor Yang Yiwei (L) shared insight into the making of the new 3D action film "The Taking of Tiger Mountain" at Tsinghua University in Beijing on Dec 19, 2014. [Photo/China.org.cn]
Tsui revealed that he was doing community service in New York's Chinatown 40 years ago when the opera movie "Taking Tiger Mountain by Strategy" was screened.
"Then I thought, 'If I ever have a chance in the future to do anything related to filmmaking, I will turn this story into a new movie,'" he said. This memory inspired him to specially shoot and put a New York scene into the beginning of "The Taking of Tiger Mountain."
He said he read "Tracks in the Snowy Forest" after seeing the 1970 film and felt that the story was still relevant in modern times. At a 1992 gathering of Hong Kong and Chinese mainland filmmakers, director Xie Jin once asked him what kind of movie he wanted to do for mainland stories, and Tsui said he answered immediately, "Taking Tiger Mountain by Strategy!" At that time, kung fu megastar Jackie Chan was there too, and he said "I'm in!! I want the role of Yang Zirong!"
Although Jackie Chan eventually didn't end up with the leading role this time, Tsui decided to move forward with Chinese actor Zhang Hanyu as Yang Zirong and veteran Hong Kong actor Tony Leung Ka-fai as the villain Zuo Shandiao ("The Hawk").
Bona Film Group bought the rights to the novel in 2009, and they actually prepared for the movie for three years before the camera started rolling. Tsui even visited Qu's widow, Liu Bo, to learn more about her husband's military experience and the stories of the real people on which Qu based his characters, including himself and his wife.
Liu was pleased with Tsui's vision and granted him full authority to adapt the novel into the movie.