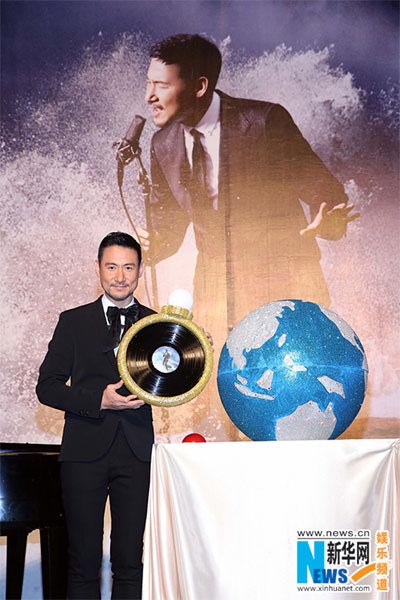 Jacky Cheung launches his new Mandarin album at a press conference in Taipei on December 22, 2014. [Photo/Xinhua]
Hong Kong superstar Jacky Cheung has launched his new Mandarin album, "Waking Up Dreaming".
Speaking at a press conference in Taipei, the 53-year-old singer-songwriter says he is excited to showcase his growth as an artist since releasing his last Mandarin album, "By Your Side" in 2007.
Fans have already enjoyed a taste of the new album with two singles released back in October - they were "Tears of Time" and "The Rest of Time".
Cheung is eager to hear what his fans thinks of the rest of the album.
"Now you've only heard two songs. It's exciting. You'll get the album tomorrow and then it's out of my hands. I also want to know who likes which songs. I'm really looking forward to hearing feedback."
Earlier this month, Cheung spoke about his plans for 2015 - plans which involve a full tour and a return to the world of on stage musicals.
Related:
Angelababy joins JJ Lin's new MV shooting