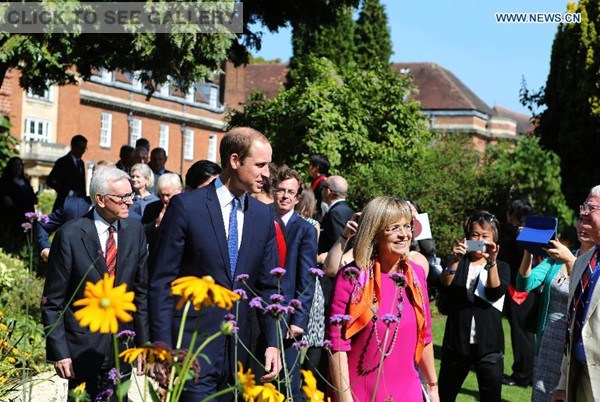 Prince William (L, front), Duke of Cambridge, greets well-wishers with Principal Dame Elise Angioline (R, front) as he arrives to formally inaugurate the Dickson Poon University of Oxford China Centre Building in Oxford, the United Kingdom, on Sept 8, 2014. Prince William unveiled the Dickson Poon University of Oxford China Centre here on Monday. [Photo/Xinhua]
Duke of Cambridge, Prince William, unveiled a new China Center in the University of Oxford Monday.
Covering an area nearly 5,500 square meters, the new Dickson Poon University of Oxford China Center in St Hugh's College cost about 21 million pounds.
Dickson Poon, a philanthropist from Hong Kong, China, is the one of the major donors of the center, who contributed 10 million British pounds ($16.14 million).
Duke of Cambridge met local students and faculty, as well as residents in Oxford.
He visited the library in the center, which could provide a permanent home for 60,000 volumes and would become a large part of the Bodleian Libraries' Chinese book collection.
Duke of Cambridge gave a brief congratulation speech and joined a Chinese traditional ribbon cutting ceremony with Chinese Ambassador Liu Xiaoming, Professor Rana Mitter, director of the center and Lord Patten, Chancellor of the university.
"The China Center is an enormous achievement. It stands on the foundations of many centuries of learning in the University of Oxford about China, and it marks a significant leap forward," the Duke said on the opening ceremony.
He said learning from and learning about China has never been more important than it is now.
Noting that China is one of the world's oldest civilizations, Prince William said China's long history, customs and artistic and technological ingenuity have endured as a source of fascination and wonder in the world.
"This center will do more than just deepen our understanding of China. ... I have no doubt that the students and fellows will contribute much to the store of human knowledge from which future generations will draw," he added.
Chinese Ambassador Liu Xiaoming said the center opened on Monday reminded him of an old Chinese saying "Giving wings to a tiger."
"Oxford shares the strength and the character of a tiger for its premier importance in Chinese study... the brand new building and valuable books will add wings to the study of China at Oxford University," he said.
"I look forward to China Center of Oxford University making great contribution to strengthening cultural and academic exchanges between China and UK, and becoming a powerful new force for promoting stronger and better understanding of friendship between the people of our countries," he added, besides wishing everyone at the ceremony a happy Mid-Autumn Day.
The new center will draw together experts from across this University, as well as international China specialists and institutions involved with China.
"We are very happy that the Duke is opening the building, because it symbolizes that how important this building is, both in terms of the University of Oxford and also for the links of UK and China," said Rana Mitter, the center director, who is a well-known professor of modern China history and politics.