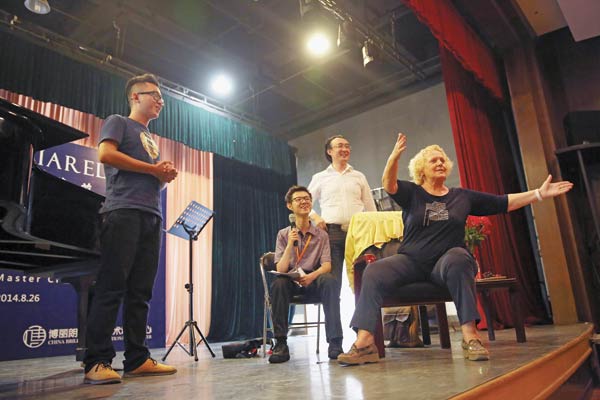 Katia Ricciarelli finds Asian students open to Western culture.
Ricciarelli came to China for the first time in 1985 with La Scala, the world-renowned opera house of Italy for three concerts in Beijing, performing largely baroque programs. The 13-member ensemble was not big in size but it made a big impact then.
Ricciarelli enthralled the Chinese audience with her golden voice, great technique and stage presence. She recalls that the audiences then were introverted but they did warm up as the show went on.
While looking back on her career, Ricciarelli can still recall her professional debut as Mimi in La Boheme in Mantua in 1969, when she was an ambitious young soprano who "wanted the whole world to be amazed by my singing".
Von Karajan pushed her into heavier roles, in particular Puccini's well-known Turandot. Ricciarelli says that what made her achieve the success by performing the role of the princess Turandot was her tender approach.
"The princess took revenge for the family but she is also in love. She is not a cold-blooded woman. She has a soft side. Both Karajan and I wanted to focus on the human nature," she says.
Ricciarelli also says that her memory of the career is not all about the brilliant voice of sopranos, tenors and the elegant demeanor of great conductors, but also interesting stories behind the scene.
"Sometimes the tragedies became comedies when a dead character woke up in the middle of the performance and the wig of an actor hooked up on his chair," Ricciarelli says, laughing.
"It is a great opportunity for Chinese students to learn from her," says Liu Songhu, an award-winning veteran Chinese tenor, who worked for months to get a China visit on Ricciarelli's hectic schedule of master classes and filmmaking.
Wu Pan, a 30-year-old tenor from China National Opera and Dance Drama Theater, took the classes and his performances won him an opportunity to sing with Ricciarelli on the last day of the master classes.
"The sheer beauty of her voice also brings unique charm to the roles she played," says Wu. "She told us that we should understand the lyrics first and use our brains to think about the roles as human beings. The last thing is singing with your voice."