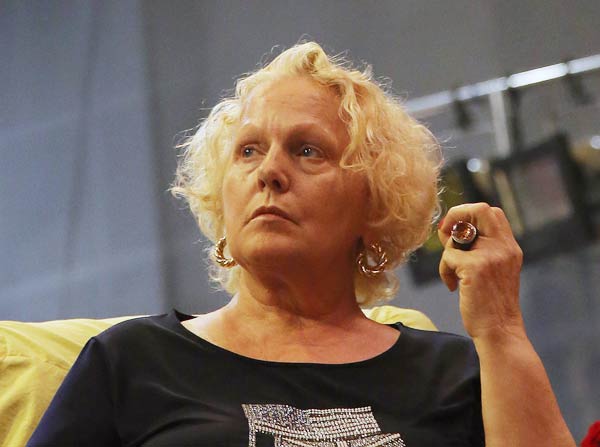 Renowned Italian soprano Katia Ricciarelli comes to China for the first time to tutor Chinese singers and students. Photos by Jiang Dong / China Daily
On a recent cool summer morning, a short blonde lady walks into a small theater of the China National Opera and Dance Drama Theater. Her casual dress, navy-blue T-shirt and black jeans, makes her look just like any other Western visitors. But her unconscious singing betrays her.
She is Katia Ricciarelli, a renowned Italian soprano. She was in Beijing giving weeklong master classes to more than 100 Chinese students, most of them professional singers or opera-major students.
"The darkness falls. You confess to your father with guilt," says Ricciarelli, 68, after opera student Zhang Jingyu sings a piece of the role Gilda from the three-act opera Rigoletto, by Giuseppe Verdi. "The emotion should be flowing and your breath is not right."
Ricciarelli stands up and puts Zhang's hands to her face, letting her feel the proper chin posture. "Maintain this posture, breathe and sing," Ricciarelli says.
Between 10 am and 7 pm, each of the students gets 30 minutes with Ricciarelli, and the established soprano is happy to share her 45 years of experience onstage. During the noon break, she would put on her sunglasses and walk to lunch, singing unconsciously under her breath.
"Some singers would sing a lot onstage but rarely speak off the stage. I am very talkative and I love sharing my experience with young people," says Ricciarelli, who has worked with established tenors and conductors, including Placido Domingo, Luciano Pavarotti, Herbert von Karajan and Seiji Ozawa.
It was Ricciarelli's first time in China, giving classes to students, and they surprised her. "Asian students are totally different now. They are open to Western culture and they have the talent to perform anywhere in the world," she says.