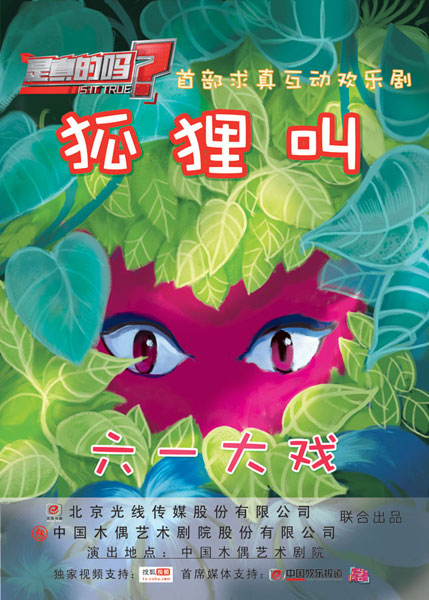 A poster for "Is It True? The Fox" [Photo/CRI]
"Is it True? The Fox" is a children's stage play that will debut during the upcoming Children's Day, on June 1st at the China Puppet Art Theater.
Director Shi Xuehai said that interaction with young audience members is an important part of the play, as this is more likely to arouse interest in the young audience.
The drama, "Is It True? The Fox", tells the story of a young, wounded bear that has been discovered by several foxes who intend to send the bear to a baboon doctor that lives high up on the Tianmu Mountain.
However, a pair of hungry hyenas that want to eat the little bear try to block the fox's attempts to rescue the little creature. As the bear is saved, a knot of friendship is also tied between those foxes that were once hostile towards one another.
It is the theme of friendship in particular, alongside mutual help, that the director Shi Xuehai hopes to convey to young audiences.
"This drama advocates the importance of friendship, praising good deeds, helping others and righteousness. The spirit of the play is essentially the heritage of good Chinese traditional values."
In the stage play, there is a little girl who plays games with the foxes. According to Shi, the character not only plays on the stage but also downstage with young audience members.
"The only human character, a girl, plays an important part in the drama since she has six major conversations with children audience members. The whole plot is connected by this character."
At critical moments throughout the play, the girl helps the foxes conquer their adversaries and leads them to traverse through forests, rivers and canyons before they finally succeed in sending the bear to a baboon doctor.
The young girl character also invites audience members to join her in carrying out interesting experiments as part of their rescue efforts. Director Shi believes that only when audience members join in with the drama will they truly commit the drama to their memory. Shi firmly believes that frequent interaction with audience members is the key to a stage play's success.
"The drama that leaves a big room for imagination will most interest children, like the animal world and science fiction. On the other hand, inviting young audience members to be part of the drama also helps to arouse interest. As soon as the young girl appears on the stage, the young audience members are invited to express their opinions and their ideas. Children are very fond of this style of communication."
The drama, which is jointly produced by the China Puppet Art Theatre and Enlight Media, will hit the stage from May 31 to June 15.