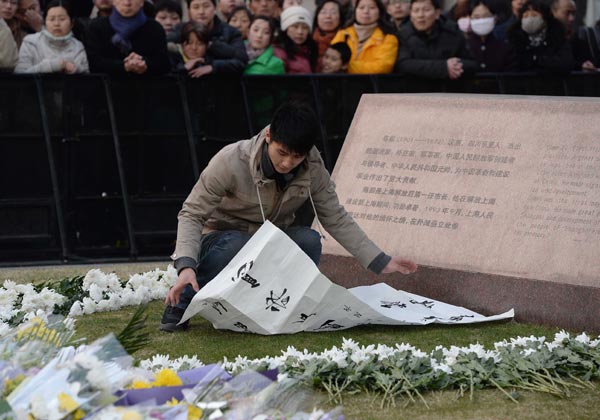 A young man places mourning couplets at Chen Yi Square in the Bund (below), site of the tragedy on New Year's Eve that claimed 36 lives. [Photo by Lai Xinxin/For China Daily]

SHANGHAI -- Shanghai authorities have verified and unveiled all identities of the 36 victims killed in the Bund new year eve stampede, the government's press office said on Saturday.
According to the victim list, 34 were residents of the Chinese mainland, 1 was from Taiwan and one was a Malaysian citizen.
The youngest victim was 12 years old and the oldest was 37 years old.
Students of Fudan University, East China Normal University and East China University of Political Science and Law were among those killed, according to sources.
The stampede happened on Wednesday night as tens of thousands people assembled in Shanghai's historic riverfront walk to see a new year skyline show in the Pudong financial area on the opposite side of the Huangpu River.
Police are investigating the cause of the stampede and the municipal government has set up a work team for rescue operations.
The municipal government has been caught in the backwash of criticism for not making effective preparation measures to cope with the crowds that flocked to the Bund.