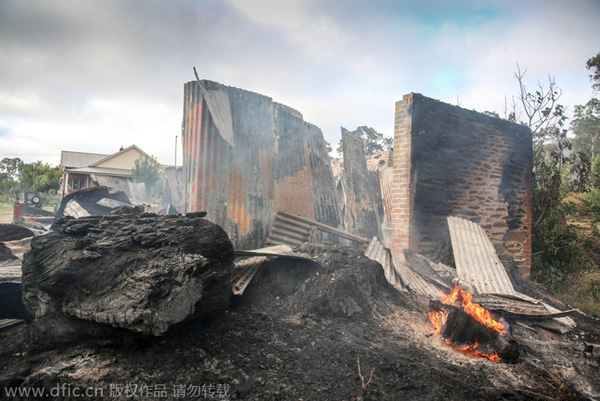 The burnt out remains of a property in Gumeracha, Adelaide Hills, Australia, Jan, 4, 2015. [Photo/IC]
SYDNEY - Cooler conditions on Sunday were helping hundreds of firefighters working to contain a massive wildfire that had forced thousands of people to flee their homes in southern Australia.
A dozen homes have been destroyed by the fire in the Adelaide Hills in South Australia, with another 20 also feared lost, state Premier Jay Weatherill said. Twenty-two people have been injured, though none seriously, Weatherill said.
Hot and windy conditions that had fanned the flames since Friday eased on Sunday, prompting officials to lower the fire's danger rating from the highest level. Firefighters were working to clear roads and police hoped to return some residents to their homes Sunday morning, Police Commissioner Gary Burns said.
"We will be reopening areas once it's safe to do so," Weatherill said. "However, there remains serious risks associated with falling trees and falling power lines."
Residents of 19 communities had been forced to flee their homes as the fire raged. A large number of cats and dogs were killed when a kennel was destroyed in the blaze.
Several firefighters were treated for minor conditions such as smoke inhalation, but no major injuries were reported, the Country Fire Service said.
In neighboring Victoria state, rain had helped firefighters bring another dangerous fire that destroyed one home under control. All fire warnings across the state had been downgraded on Sunday and residents were returning to their homes.
Destructive wildfires are common across much of Australia during the summer months. In 2009, wildfires killed 173 people and destroyed more than 2,000 homes in Victoria.