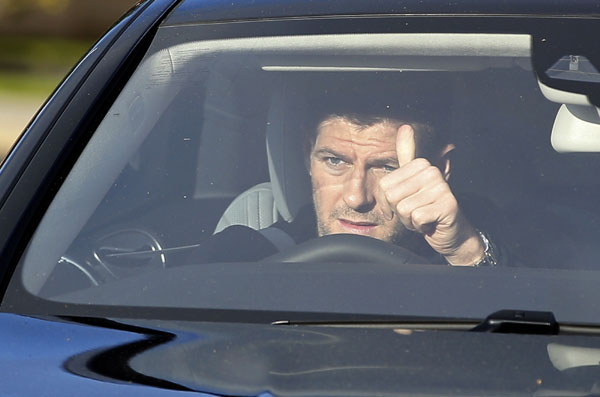 Liverpool captain Steven Gerrard gestures as he leaves the club's Melwood training centre in Liverpool, northern England January 2, 2015. Gerrard will leave the club at the end of the current season, the English Premier League club said on Friday.[Photo/Agencies]
LONDON - Liverpool captain Steven Gerrard is set to move to a foreign club after disclosing on Friday he will leave his boyhood team after the season to seek a new football experience away from the English Premier League.
The 34-year-old midfielder said he "agonized" over whether to accept Liverpool's offer of a new contract, and made the announcement midway through a season when he was no longer guaranteed a place in the team.
With his contract expiring at the end of the season, Gerrard has been free to talk to foreign clubs since New Year's Day, and he has no plans to retire yet.
"I'm going to carry on playing," Gerrard said. "Although I can't confirm at this stage where that will be, I can say it will be somewhere that means I won't be playing for a competing club, and will not therefore be lining up against Liverpool _ that is something I could never contemplate.
"My decision is completely based on my wish to experience something different in my career and life, and I also want to make sure that I have no regrets when my playing career is eventually over."
Major League Soccer would be an obvious destination for Gerrard, who rose through the academy to become one of Liverpool's greatest ever players, and also captained England before retiring from international duty after the 2014 World Cup.
"This has been the toughest decision of my life, and one which both me and my family have agonized over for a good deal of time," Gerrard said of his Liverpool departure. "I am making the announcement now so that the manager and the team are not distracted by stories or speculation about my future.
"Liverpool Football Club has been such a huge part of all our lives for so long, and saying goodbye is going to be difficult, but I feel it's something that's in the best interests of all involved, including my family and the club itself."